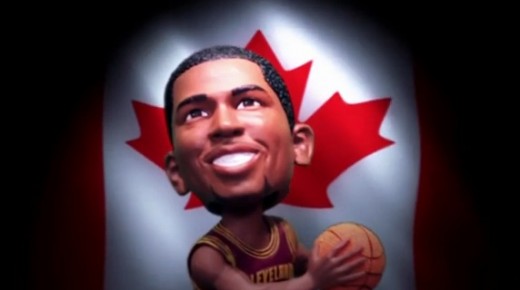 A peculiar phenomenon of the internet seems to be that nuanced observation and dialogue is… unpopular.  Maybe "not popular" would be a better way to put it.  It seems as if the quickest way to page views and hyperlink glory is to churn out the most hyperbolic, sensationalist screed possible.  In the quest to shout the most ridiculous and extreme views from the mountaintop in order to engender the most snickers, likes, or hates, it becomes impossible to differentiate between parody and actual opinion.  Poe's law makes the line between expressing a strong opinion and baiting trolls increasingly impossible to discern.  Unfortunately, there's no smiley face emoticon that can be slapped on every single mocking sentence, and praise can be dripping with sarcastic derision.   So in light of Tristan Thompson Bobblehead Giveaway night tomorrow at the Q, I guess I have to say this without an ounce of irony or shtick: Tristan Thompson's been pretty good lately.
How good?  Since Anderson Varejao has been out of the lineup, TT has put up some very impressive averages: 14.1 points per game, 11.9 rebounds in 35.4 minutes a game.  His PER is roughly 17.84 (calculated using linear weights PER).  His true shooting percentage is .543, and his defensive rebound rate has been 24%.  The most impressive number?  He's shooting .691 from the line in that time!  If someone had bet me last year that TT would shoot almost 70% from the line for a solid month, I'd have said, "yeah, and the Lakers won't make the playoffs."  Kevin called Tristan's game buttery slickness.  I'm calling him poutine.  That free throw percentage is pure gravy.
How has Tristan done this?  First of all his rebounding has improved dramatically.  Tristan's always been a good offensive rebounder.  Before AV left the lineup, TT was rebounding at a rate of 12.9% offensively and 17.8% defensively for a total rebound rate of 15.2%.  Since Andy's injury, Thompson is rebounding at a rate of 14.6 ORB%, 24.0 DRB%, and 19.1 TRB%.  Obviously, in Varejao's absence, there are more rebounds to go around, especially when playing with Luke Walton, but TT's rebounding is reaching elite levels.  19.1TRB% would be #10 in the league this season.  As it stands now, TT is #10 in offensive rebounding this season, even including the time he played with Andy.  Raising his defensive rebounding rate an additional 6.2% in Andy's absence is impressive.  That's a per game average improvement of 4.2 rebounds a game.
It's not just the rebounding.  Canadian Dynamite has become a confident and effective offensive player.  As we've talked about and Austin Carr has alluded to, Tristan Trevor James Thompson has torn down his offensive game and rebuilt himself as a right hander.  Strangely ambidextrous, Thompson has much more touch with the right hand.  The left hand shot seems to be flatter, and to have less spin on it.  While he still shoots freethrows lefty, his new preferred move seems to be the right handed hook shot in the lane out to about 9 feet, which he's becoming more and more effective at.  Another reason that Tristan has become the ketchup chips of offensive players, is that he rarely takes dumb shots.  Tristan is not a jump shooter and he knows it.  He rarely takes a jump shot at all.  He is much more effective with the hook or flip shot from both sides of the basket, but if he doesn't have a good look, he's gotten very good at giving the ball up and not forcing anything.  His shot chart speaks volumes.
Thompson has gotten effective at shooting the jump hook, and can go over either shoulder (though I wish he'd go left a bit more to keep the D honest).  He has a full on hook as well as a little jump hook push shot that he likes to shoot from the right and left of of the key.  He's also gotten very good at quick dunking guys and has dropped some of the weight he had earlier this season.  No longer afraid of getting fouled, TT goes quickly to the bucket and has learned to get to the far side of the rim on dunks to avoid getting blocked.  I'm impressed by his ability to be a double digit scorer simply through putbacks, dunks, hook shots, and the occasional dribble drive.  Yes, his handle is pretty sweet for a big man, and he's been impressing with his between the legs crossover.  KG turned his head the other night, and TT flew to the rack from the top of the key to earn two freebies.  Because of his dribble drive game, defenders can't completely ignore TT outside of the key.  Plus, his free throw form looks better every game.  Even if he rarely uses it in games, it's obvious that the time Thompson spent in the offseason working on his jumper has helped him at the charity stripe tremendously.  As can be seen in this highlight real from Portland, it's obvious he's working at it between every game, too.
Another evolution of Tristan's game has been better passing and decision making before Andy's injury, Thompsons assist rate was 6.1%, his turnovers were 14.6% and his usage was 15.1%.  Since the injury he's bumped them to 7.9 AST%, 10.6 TOV%, and 18.3% Usage.  So he's also getting the ball more.  He even had a 5 assist night against Boston. He may never be Bill (or even Luke) Walton, but he's no longer Yinka Dare.
On the other side of the ball, the Cavs defense is (still) such a mess that it's really hard to grade him.  Tristan passes the eye test, in that he seems to get in good position and be a decent one on one defender.  He's certainly better than his replacements, and has been all season.  82games ranks him as helping the Cavs D give up 7 less points per hundred possessions, and score an additional 4.2 per 100 possessions than his subfor a net rate of +11.2 for the season.  This is more an indictment of Tristan's really bad replacements though.  Recently, TT held LaMarcus Aldridge and Paul Millsap below their averages and helped limit KG to 5-13 shooting.   but he definitely has room for improvement here.  Furthermore Tristan's blocks are down drastically this year from last year, and he hasn't been any better in Andy's absence.  His block rate has dropped in half from 3.3% to 1.7%.  The increase in rebounding has benefited, but it would be nice if he could regain some of the aggressiveness on help defense that he had in his rookie year, while still leaving behind the wild abandon that got him consistently out of position.
The real question is: where can Tristan go from here?  Tristan's rapid improvement has been eye opening.  It's like he hired Mark Whalberg's post Planet of the Apes acting coach to develop his post game.  That serviceable post game was developed in a season and a half after Jay Bilas said on draft night,"he needs to learn how to play and how to score."  Can Thompson keep developing?  One good thing is that he seems to add one skill at a time.  If TT can master the hook shot, he can graduate to learning how to use the glass.  He's still not very good at this, but has gotten better at layups off the square.  If he can figure that out, he can start learning how to dunk one handed, which will allow TT to finish at some better angles and let him wait to expose the ball on the flush.  With those abilities and the little flip shot which I've seen a few times, Tristan can develop a counter off the hook: an up an under or a turn and face power move/step through/drop step.  That should help him on the block.  In the next couple years if he can develop a jumper even out to 15 feet, he could really be something.
Pre-season, I said that Tristan's ceiling may be a slightly better on offense Ben Wallace.  I'm revising that.  His ceiling is unknown at this point.  According to a comment Kevin made yesterday, "In the last ten years, the guys to average 15 & 12 and 50% fg are Duncan, Garnett, Howard, Blake Griffin and Zach Randolph (once)."  Tristan is getting close to this in his last month and simple improvements seem possible.  Let's hope he can keep it up.  TT's ability to conjure dramatic improvement in season is a rare commodity.  In looking at his game, I'm not sure I can figure out a player to compare him to.  Name me a long armed left handed center in a power forward's body who scored mostly out of the post, had a face-up game with no jump shot, could put up 12 boards a game, and was still a decent defender?  Maybe Tristan's a southpaw Dennis Rodman.  This much is true: the fumbling and hesitant player TT was at the beginning of the season, when he was still a rookie, no longer exists.  Tristan has achieved the rare feat of mid-season metamorphosis.
What I like most about Tristan is his demeanor on and off the court.  He seems affable, well spoken, and genuinely funny.  I absolutely love this video for TT's induction into the bobblehead hall of fame, and the fact that TT's taken on childhood epilepsy as part of his charity work.  Furthermore, if Fox Sports is to be believed, Tristan was leading the huddles in the game against the Celtics.  He seems one of the few Cavs truly committed to defense on every play, and he plays with an energy that is infectious.  No snark — Canadian Dynamite has become one of my favorite Cavaliers.
P.S. I completely forgot to mention TT's rapidly developing pick and roll chemistry with Kyrie, and the fact that he consistently runs the floor: two more gold stars in his favor, and the source of a few more buckets a game. That is all. Let the love fest continue.
P.P.S  According to commenter, LaughingCavs, Tristan's PER is actually 18.5 since Andy's quad tear (linear weights PER is a rough PER approximation, and tends to drift by a point or so).  He also included this great graph which tracks Tristan's PER per (offensive) possession from the 500th (offensive) possession of the season onward.  TT is tracking over 20 in the month of January.  Exciting stuff.