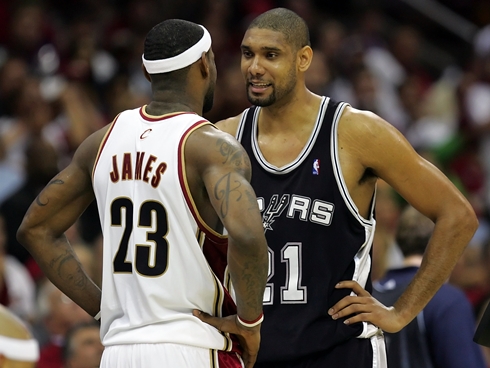 Four things I'm thinking about the Cleveland Cavaliers…
1.) Over the years, the NBA Finals have produced only a handful of memorable player v. player rivalries. The playoffs have had their share, but try to name the real iconic head-to-head match-ups in the Finals. Can't think of many, can you? Magic and Bird, obviously. Wilt and Bill Russell. What else? Michael Jordan and Bryon Russell? No, maybe not.
Generally, the feuding and chippiness that makes us love the playoffs is more often reserved for the Conference rounds, where teams (like Miami and Indiana recently) can meet repeatedly over several years fielding similar rosters and let Player X draw a big red circle around Player Y and go after him with each player's legacy firmly at stake.
But there is just such a match-up in this year's Finals, as Tim Duncan and LeBron James will be facing each other in the Finals for the third time in their careers.