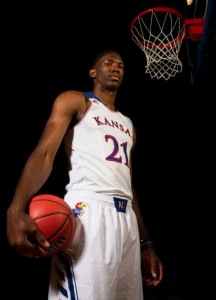 Joel Embiid is a freak physically who had decent stats in college.  His freshman year matches up pretty well with Tim Duncan's freshman year.  Those are just numbers though.  There have been plenty of busts that had wonderful college box scores and amazing bodies.  What is important is what actual skills Embiid has that can be seen, not just measured.  So, I deal with the numbers and what is being witnessed separately.  Luckily for Joel, he appears legitimate when you read his box scores and witness him play.
In the Raw
Joel Embiid is a 7'0," 240 pounds and sports a 7'5" wing span.  Embiid grew up in Cameroon playing soccer and volleyball. He's only twenty years old and has been playing basketball since 2011.  His path to America through basketball is unique, but his path to actually playing basketball was the same as most people his height.  He was pulled to a basketball camp just because of the chance he may become good.
The camp was led by Luc Richard Mbah a Moute, and the NBA player immediately saw that Embiid had amazing moves for someone who had never played organized basketball.  Mbah a Moute eventually talked Embiid's father into sending him to the Montverde Academy in Flordia to play basketball.  However, Embiid didn't see playing time during his junior year, so he transferred to the Rock School, also in Florida.  Mbah a Moute called the Rock school on Embiid's behalf to get him a spot on the team.
Kansas assistant coach and former Florida native, Norm Roberts, brought the big kid to the attention of Kansas head coach, Bill Self.  Self watched Embiid practice and concluded he could be a dominant force and a future number one pick.