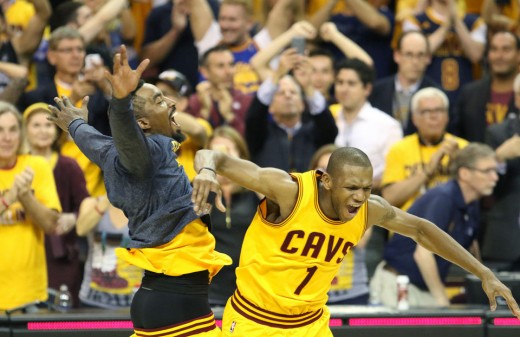 Still buzzing after the Cavs 118-88 Game 4 Win over the Atlanta Hawks that moved the Cavaliers four wins away from the city's first major professional sports championship in 51 years, Cory, Tom, Nate, Mallory and I had a little chat about your Eastern Conference Champion Cleveland Cavaliers…
1.) At what point in the season did you start to believe that this team could return to the NBA Finals?
Nate: It happened twice. The first time was when the Cavs dismantled Memphis on March 25th to win by 22 points. The Grizz were the second best team in the West at the time, and the Cavs gave them one of their signature third quarter floggings. Kevin Love scored 22 on 13 shots; Irving, 24; LeBron, 20; Moz, 14… After Kelly's killer armbar, we all had our doubts, but David Wood's revelations about the Cavs super D lineups (featuring TT, Delly, Bron, and Shump) gave me faith. I was fully aboard the Finals bandwagon again after Game two versus the Bulls. I knew if the Cavs could get a split at home without J.R., they'd be OK. Cleveland jumped all over the Bulls, racing out to a 20 point lead in the first quarter, and LeBron rediscovered his post game. Cleveland turned into a team that's impossible to beat with a lead in the fourth, and I knew the Bulls were hosed.