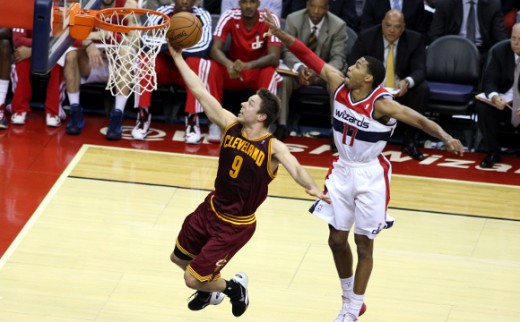 Matthew Dellavedova has been referred to by Cavs: The Bloggers as Delly and Matty SuperDova.  I call him Matty D sometimes.  He's been a little ball of constant effort, and in almost every season review article coming out about the Cavs, he has received high praise.
As of yesterday, the world needs start calling him the Gotbuckets.com Rookie of the Year.  Cavs: The Blog writer Kevin Hetrick crowned Delly with the award.
 Dellavedova did some nice point-guardy things, posting true shooting of 54% with a 3.1 to 1 assist-to-turnover ratio.  More than anything though, he was energy.  On offense, he always pushed the ball.  On defense, he was a nuisance.  The first time the NBA really experienced Matty SuperDova, they weren't ready for his Delly*.  In back to back games against Washington in mid-November with the Cavs looking lethargic and disinterested, in stepped the undrafted rookie.  And he was the sun, a beaming ray of light on the otherwise morose Cavaliers.  To Brad Beal, he was like a fly on flypaper, white on rice, impossible to shake…I think Randy Wittman tried handing Beal a taser during one timeout.  Things started happening when Dellavedova was on the court, good things for the Cavaliers.  In those two games, Cleveland was -39 in the 44 minutes he sat and a glorious +39 in the 57 minutes he played.   And it stayed that way much of the season, with the Cavs being outscored by 7 points per 100 possessions during the 2700 minutes he sat, but torching opponents by 4 pp100p for the 1300 minutes he played.

And for all of that, Matthew Dellavedova, you win the very prestigious, yet largely ignored, inaugural gotbuckets.com Rookie of the Year.  Congratulations!
I hope Anthony Bennet doesn't get too jealous of the flourishing point guard.