Posts Tagged 'Luke Harangody'
Thursday, September 27th, 2012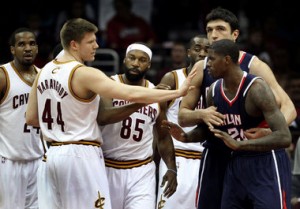 Luke Harangody has no place on an NBA roster. Here's the link.
Saturday, September 10th, 2011
The following contains both a tribute to and a musing on Cavs PF Luke Harangody.
Here is the tribute: An illegally procured copy of XXL's new LH cover.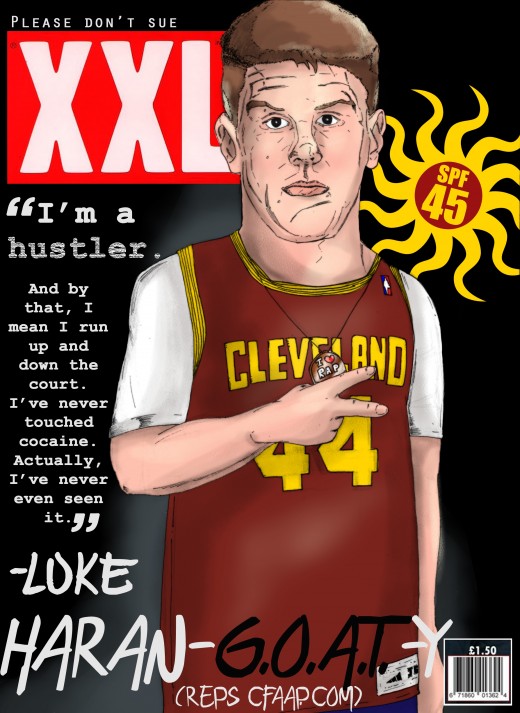 Initially, I'd planned to make cover art for a fictitious Harangody rap album (tentatively titled, "SPF-44"), and I wrote the following faux-review excerpts to paste on the cover:
-"Incomprehensibly white."
-"I bought this in a grocery store parking lot."
-"Better than Ron Artest's album."
I couldn't fit them all in and so I went with the magazine.
Okay, now for the musing.
I read and loved Kevin's excellent series on Cavalier "Diamonds in the Rough," and if I valued having an honest relationship with myself, I'd probably go ahead and admit that I think he's right in his assertion of Luke Harangody (In case you don't remember, it's: At best, a "starter for a second place team in the German League." Which is harsh, but fair. The German League places a premium on undersized, un-athletic 4's.).
But since I traditionally lie to myself to suit the needs of any individual moment, here's one potentially more optimistic stance/comparison that I think is somewhat grounded in reality.
Luke Harangody is Brian Cardinal; he's just too young for us to see it yet.
My theory?
Cardinal, the funnily shaped, self-deprecatory, 34-year-old 10th man had so little "legacy" invested in a Finals win that it ultimately enabled him to perform with surprising effectiveness if only because he was one of the only guys on the court unaffected by the magnitude of the moment. He didn't win the Finals (he played 30 total minutes), but he helped.
Is it possible that all Harangody is missing by way of comparison is the self-awareness that comes with being a bit-player for 11 NBA seasons?
In my mind, the number one most incriminating Harangody statistic is his current 38.4% shooting percentage. Not good for an interior player.
Brian Cardinal's career shooting percentage? 41.3% (and he's 6-8 too).
The key note to take away is that while 40% shooting from a power forward is bad, it doesn't hurt as much when he's only taking three shots a game.
With his unique combination of toughness and self-awareness, Brian Cardinal has quite probably now affirmed his status as the best 10th man in basketball.
I believe it's possible that we've found someone similar, we just need to let him age. (And also, maybe send him to the Groundlings. Brian Cardinal is funny.)
…………………
Thanks for reading everyone!
(Picture by CFAAP.com and colors by AJS.)
(Also see, related picture: "Black Luke Harangody.")
(One last note: I realize I'm posting this at 12:00 AM on the 10th anniversary of September 11th, and though I am probably in no position to substantively comment on it, nor is this the place to substantively comment on it…consider this my best wishes to any and everyone who may have been affected, however they were affected. May the world keep getting better.)
Sunday, September 4th, 2011
Happy Sunday, Cavs fans!
I come to you this morning having solved an interesting and entirely self-manufactured quandary: essentially, how to post a new DFTNOCG whilst honoring the nation's 118th Labor Day by not doing any labor?
I think I found an answer. Everything I'm putting up today was drawn a few months ago.
Two pictures this entry…
The first marks our initial venture "Around The NBA" (something I might explore a bit further in the coming weeks), and was done back in May for another (and obviously, less cool) website.
Can I claim that I'm over it while holding the sentiment that I wouldn't trade Tristan Thompson for LeBron James? (Because you don't trade big for small…)
The second picture…well, the second picture is from my dyslexi-racist, seven-year-old cousin who accidentally drew the white Antawn Jamison a few weeks back. The kid doesn't see race…or rather, he sees race backwards…which I guess is a positive? At the very least, I think he's developing a "thing." Very important for an artist.
Anyway, without further ado…the second published work of Adam Braun.
Obviously, Luke's taken the lockout to improve his vertical.
………………………..
Hope everyone is having a good weekend, and thanks for reading!
I'll be back with something good next Sunday.
-Ryan, of the massively popular CFAAP.com.