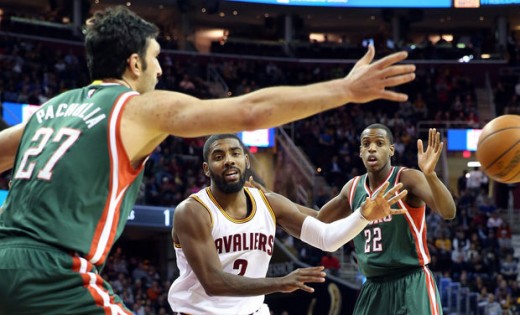 Four points I'm thinking about the NBA and the Cleveland Cavaliers…
Pre-point: If you haven't checked out David Wood's recap of last night's Cavs/Bucks game yet… GO. NOW.
1.) Saturday night's game against the Indiana Pacers was my favorite Kyrie Irving game in a very long time. I, like many Cavs fans, had become a little calloused to the wiles of some of Irving's more obvious skills on the basketball court, because — as we were reminded again and again last season — what Irving did well did not seem to translate into winning basketball. He dominated the ball. He'd pout when things got tough or didn't go his way. He played defense so poorly most of the time that he actually became the opposing team's sixth man on the floor on offense. There were feuds and buddy ball and a whole lotta stuff coming from Number 2 that were key factors in the grueling slog that was the #SesasonOfHuh (promotional non-sequitur: look for the e-book/paperback that is the definitive guide to all things Huh with writing by some of the most talented and beautiful Cavs bloggers around coming very soon… for serious… GET EXCITED!).
All of this made me enjoy Irving — an undeniably talented ballplayer — just a little bit of a lot less.