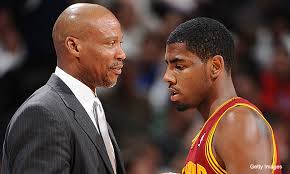 The Cavs are being talked about today because of their connections to Los Angeles.  Unfortunately, the talk is anything but positive.  Sam Amico of Fox Sports Ohio, is reporting on a video Ric Bucher put out on Bleacher Report saying that there is a chance the Lakers hire Byron Scott.  Scott might be able to pull Kyrie to Los Angeles according to Bucher.
Irving has said he would like to stay in Cleveland, "but the fact of the matter is with Scott in LA with the Lakers, that could be very appealing, and that would bring in a great building block for the Lakers moving forward," Bucher said of Irving.
I'm calling shenanigans on this situation.  I have never been under the impression that Byron and Kyrie were close enough to intertwine their career choices.