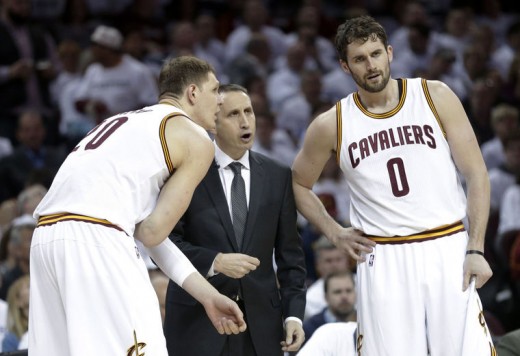 Four points I'm thinking about the summer workout plans of the Cleveland Cavaliers…
NBA fans often bemoan the summer's later months, the ones that find our steady intravenous drip from the hoops-related news cycle almost entirely pinched off. For the players, though, the desert-like days spanning mid-July through mid-September are the only time of the year where the spotlight of fan and media attention is turned off — with some players retreating further from that light than others… of course. Some may focus on spending this time with their families. Others take lavish vacations to decompress and recover from the grind of a long NBA season. But, eventually, at some point during the summer they get back into the gym and work on their games.
With the NBA landscape gone radio silent, here's what I'm hoping four Cavaliers are working on with all the diligence (and, hopefully, the effectiveness) of a Rocky training montage.
1.) Timofey Mozgov: The left-baseline jumper.