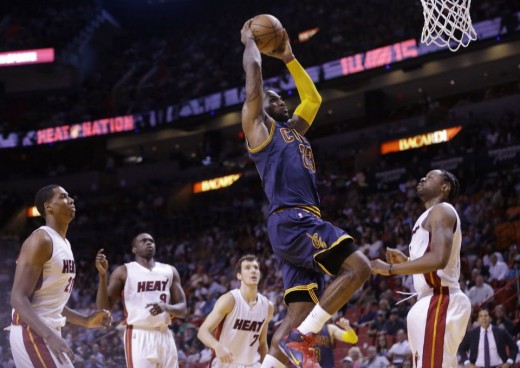 Four points I'm thinking about the Cleveland Cavaliers…
1.) Count me among those who were actually surprised to see LeBron James suited up for Monday night's game against the Miami Heat. After tweaking his knee in Sunday's game against Orlando, James, who has spoken publicly of his desire to get some more rest before the playoffs start, chose to stay in for this road contest against his former team (and, likely, because of that).
After a couple of months in which James has sat out the occasional game on occasion (most recently, at home against Portland and on the road against Indiana) in order to give his body a couple more days to get right, James played, only to aggravate a wrist injury (in a collision with Hassan Whiteside) for his troubles.
Cavs head coach David Blatt has stated his desire for the Cavs to hold onto the second seed in the East going into the playoffs, so it's unlikely that James will take off as lengthy a stretch as he did in December into January. Especially with the team resting Kevin Love, the Cavs need James if they are to win enough games to give Number 23 a prolonged rest.
As of now, Love is expected to play tonight against the Brooklyn Nets, though nothing definite has been announced.