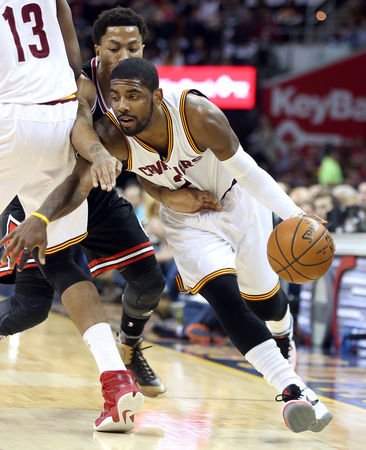 First off, if you haven't listened to Nate, Tom and Ben's mid-season Cavs: The Podcast, what are you waiting for??
Four points I'm thinking about the NBA and the Cleveland Cavaliers…
1.) Kyrie Irving is really winning me back over this season.
While everyone (CtB included) was quick to heap praise on the performance of newly-acquired center Timofey Mosgov in the Cavs 108-94 victory over the Chicago Bulls, Monday night, for me, was all about Irving.
It wasn't his greatest shooting performance (7-16 for 18 points and only got to the free throw line four times) but watching Irving play surrounded by talent is to remember just the type of amazing plays he's capable of on an every-time-down-the-floor basis. In fact — and it pains me to say this — he may have already passed LeBron James in that regard.
This is not to say that Irving is a better player than James. The Cavs recent losing streak with James out showed that, no, Irving still does not know how to win in this league. Too often, his brand of hero ball seems to send the Cavs to the wrong side of the win/loss column. He walks the ball up too much rather than pushing it. But, as we saw from Irving in the FIBA tournament this summer, when he seems to feel more trust in the players around him, Irving can look like one of the best players in the league.