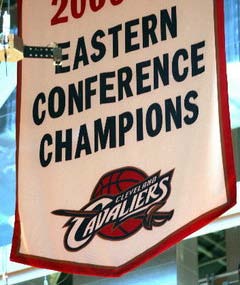 In this second installment of potential paths to turn the Cavs into a rising, 50 win team by 2013, the focus will be on several trades for this year.
First though, I want to discuss my expertise with the Collective Bargaining Agreement, or more precisely, my lack of expertise.  Case in point is that in the first Destination: 2013 Scenario, the issue of "front-loading" contracts drew some skepticism.  I should have referred to "signing bonuses", which may be allowable (see here and here).  Ultimately it's not important whether the "front-loading" was legal or not; if the contracts were constructed normally, the Cavs' salaries go up by $2.2 million in 2013 – 2014 and instead of Omri Casspi as backup SF, the scenario is forced to go with "2013 Miami 1st rounder".  Essentially, there's minimal difference.  And that's the important point; any CBA misapplications in these posts should be minor enough to not affect the big picture.  If this proves untrue, I am prepared for a public scolding. 
In this scenario, three trades will continue stocking the Cavs' cupboard with young prospects.  These trades are:
Antawn Jamison to Charlotte for Desagana Diop, Matt Carroll, Derrick Brown, and Portland's 2013 1st round pick (owned by Charlotte) – This is a salary dump for Charlotte.  They're able to take the $11 million they owe Diop and Carroll off the books for 2012 – 2013.  They get hometown guy Antawn Jamison earlier than planned (Jamison has discussed a desire to finish his career with Charlotte).  They would have nearly $25 million in cap space available in the summer of 2012 for Michael Jordan to pursue a big free agent in addition to re-signing Jamison and D.J. Augustin.  For this flexibility, Charlotte's price isn't too high; they give up a kind-of-young, kind-of-decent small forward and a future, late first round pick.  The Cavs get those assets in exchange for the right to overpay two players for a year.  Mychel Thompson and Luke Harangody would be waived.
Ramon Sessions and Cavs 2012 2nd round pick to Oklahoma City for Cole Aldrich and Reggie Jackson – The Thunder are a team trying to win a championship this season, and a season-ending injury to Eric Maynor has left them with a roster hole.  Enter Cleveland to the rescue!  Sessions is an experienced option to spell Russell Westbrook for 15 minutes during the regular season and 8 minutes every playoff game.  OKC parts with two young pieces they don't need.  Cole Aldrich was a lottery pick just 18 months ago, and despite struggles in limited NBA time, he was very effective in a D-League stint last year; finishing third in blocks per game and defensive rating and fifth in defensive rebounding percentage.  In two D-League playoff wins, he averaged 12.5 points, 12.5 rebounds and 3.5 blocks.  He's big, young, & cheap and a more appealing back-up center option than what the Cavs currently have.  Reggie Jackson was the 24th pick in last year's draft, and the Cavs could take a look at him as a long-term backup to Irving. 
Cavs 2012 1st round draft pick plus Hornets 2012 2nd round draft pick (Cavs owned) and Portland 2013 1st round draft pick (Cavs owned, see above) to team with #3 draft pick in 2012 draft –For now, I'm staying the course of previous posts and assuming that the Cavs win 25 games and end up with the #8 pick in the draft (this thought is fading quickly.  I may have to recalibrate after the back-to-back with Boston).  The Hornets pick will be around #35 and the Portland pick should be in the 20 – 25 range.  A third team would be brought in offering a late 1st round pick (let's say 24th) for the 33rd and 35th picks this year.  So the Cavs' primary partner in this trade ends up with #8 and #24 in 2012 and #23 in 2013 for the #3 and #33 in 2012.
This seems reasonable to me, considering how redundant the 2012 draft will be for big men.  ESPN projects 7 of the top 13 picks as power forwards, with 11 of the top 15 as centers or power forwards.  The #3 pick this year will likely not be viewed as a "mega-star waiting to happen".  There is a relatively good chance that the team at #3 can say, "there will be someone we like at #8, plus we get two other decent picks…let's take the trade."
This scenario is counting on it and with the third pick in the 2012 draft, the Cavs select  Harrison Barnes.    The Cavs fill the roster with one-year contracts to Derrick Brown and others (Ray Allen for 1 year, $8 million anyone?), and have an up-and-down 2012 – 2013.
Heading into the summer of 2013 (approximate $62 million cap), Cleveland's existing obligations (and salaries) would be Anderson Varejao ($9.1 million), Kyrie Irving ($5.9 million), Harrison Barnes ($4.6 million), Tristan Thompson ($4.3 million), Cole Aldrich ($3.2 million), and Reggie Jackson ($1.3 million).  After almost knocking off the Heat in the first round of the 2013 playoffs (ultimately wearing them down, leading to a third straight Finals defeat), the Cavs use the 15th pick in the draft to choose Brazilian seven-footer, Fab Melo out of Syracuse.   Melo and the other 1st round pick total $3 million.  Omri Casspi's option would not be picked up, and Alonzo Gee was re-signed after 2011 – 2012, starting at $1.5 million per year.  Finally, Daniel Gibson would be kept at $3 million per year.  The team's commitment to those 10 players in 2013 is $36 million; the other $26 million would be offered to:
Paul Millsap –It's not sexy, but the acquisition adds an offensive force to the front line.  A four year, $46 million contract (starting at $11 million) will take Millsap through his age 28 – 31 seasons.  Last year, he averaged 17 & 8 on 58% true shooting.  He has one of the better power forward jump shots and is a fierce rebounder.  Utah is unable to justify spending this amount on Millsap, as they consider the upcoming contract extensions for recent top 5 picks Derrick Favors & Enes Kanter.
Kevin Martin – To reach an even higher level, Cleveland pursues a fourth source of offense along Irving, Millsap, and Barnes.  Martin has been one of the NBA's best scoring two-guards for over a half-decade.  A high-salary, short-term offer is made for 2 years and $20 million, similar to, but more pricy than recent contracts for Jamal Crawford and Richard Hamilton.  Houston decides it's not justified to tie up this money on a thirty year old, as they go all-in pursuing James Harden, Steph Curry, Tyreke Evans or Demar Derozan.
Tiago Splitter – With Varejao, Millsap, Tristan T, and Fab Melo in fold; this is a luxury buy.  Nearly 7 feet tall, Splitter rebounds well and scores efficiently, providing a 4th big man to keep the rookie from being overly relied on.  Also it's a gimmick; once you start amassing tall Brazilians, it's hard to stop.  Andy, Tiago, and Fab can do whatever it is that giant Brazilians do in Cleveland.  In order to steal him from the Spurs, the Cavs offer 4 years, $20 million (starting at $4.8).  The Spurs start a rebuilding process that summer and can't justify paying Splitter through his age 32 season.
The 2013 – 2014 roster is (ages in parantheses):
PG – Kyrie Irving (21), Reggie Jackson (23), 2013 2nd round pick, – With Irving in his 3rd year in the league, he's makes his first Eastern Conference All Star team.
Wings – Kevin Martin (30), Harrison Barnes (21), Daniel Gibson (27), Alonzo Gee (26), Miami's 2013 1st  round draft pick – Martin and Barnes represent a huge offensive upgrade from the current roster.  Gibson, Gee, and the first round pick are relied upon for defense.  Barnes would be the team's 6th man, with a defensive minded player starting over him.
Front Court – Paul Millsap (28), Anderson Varejao (31), Tristan Thompson (22), Tiago Splitter (29), Cole Aldrich (25), Fab Melo (22) – Millsap and Varejao operate as one of the league's better starting tandems.  In his age 22 season, TT has developed into a great first big man off the bench.
The team probably isn't a future champion, but an all-star point guard, three additional quality scorers, and a deep front line – that's a 50+ win team and the average age is only 25.
The most crucial step towards building a champion relies on trading "assets" for the "final pieces".  There are 5 players under age 25 not named Kyrie, Harrison or Tristan.  There are also seven draft picks total in 2014 & 2015.  Ideally some of this can be packaged with an expiring contract to acquire the right veterans to push the team over the top, similar to the Pistons acquiring Rasheed Wallace in 2004. 
And there it is, through a hazy future I can see it…the 2016 NBA Champion Cleveland Cavaliers!