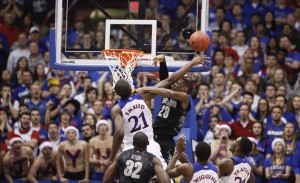 Draft day is quickly approaching, and no one knows whether or not Joel Embiid is who the Cavs should take at number one.  I think he's going to move past the injuries as he gets into better basketball shape, but a lot of people don't agree he'll avoid injuries like Anthony Bennett avoids cardio workouts.
Over at lostlettermen.com, there's a piece up about Embiid's potential to be a bust.  It comes complete with the video of Embiid injuring his back and almost blowing out his knee.  It's scary, but I won't succumb to the negativeness.
 As pointed out by Deadspin, Embiid's body simply wasn't ready for college basketball after just two previous years playing hoops. And if Embiid's frame couldn't handle playing 28 games in college hoops at 20 minutes a night, how in the world can the Cavaliers expect it to withstand the physical pounding of the NBA 35 minutes a night, 82 games a season for 15 years?
They can just manage his minutes, right? And if Embiid is a medical liability, it's only going to make the Cavs medical staff that much better according to The Onion.
"He's the nucleus. When you've got an athlete like that, you put your medical personnel in place to do great things. Sure, [2013 draft pick] Anthony Bennett led to us getting an expert orthopedist, but having Joel on our roster will allow us to put in place a solid team of medical professionals who will thrive here for years to come."
The Cavs will now have back issues, knee issues, and asthma issues covered by their medical staff.  See you soon, Amare. My aunt has been using the Cleveland Clinic for years for her eye issues and is very satisfied, so Amare will be covered in Cleveland if he gets hurt in any way.