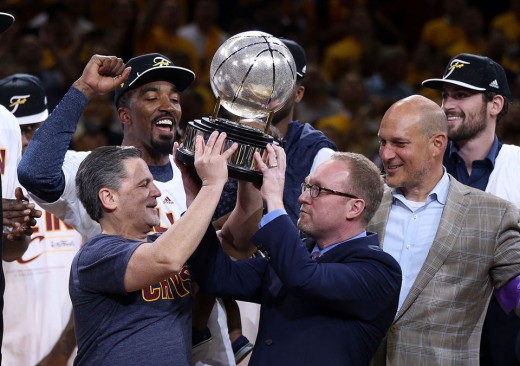 Four points I'm thinking about the Cleveland Cavaliers…
1.) Okay, confession time. I spend an inordinate amount of time thinking about the 2007 Cleveland Cavaliers. Still. To this day.
In particular, as these playoffs have continued, I've found myself increasingly suspicious of the narrative that LeBron James is pulling along his current crop of overmatched Cavalier teammates kicking and screaming on his one-man mission to return to the Finals. Clearly, James has been huge for the Cavaliers. No one is arguing against that. It just seemed like there was a difference between this year's team and James's previous Cavaliers squads, particularly the one that made the 2007 Finals — that even if the Cavs were leaning on James more in these playoffs (and your can't argue that James's 2015's playoff usage rate of 36.4% is a substantial uptick from the 29.7% usage he posted in the 2007 playoffs) that his teammates this year were performing better in support of James.