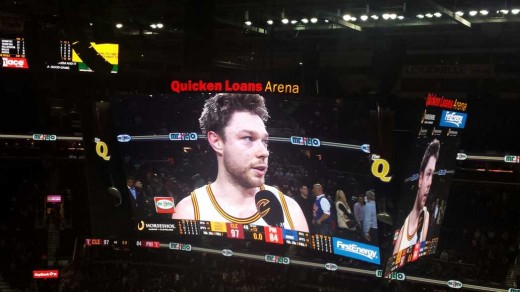 Editors Note: This was originally supposed to be a recap, but time and life intervened, and a recap of a Monday game seems silly now. Instead we thought we'd give you a taste of the gameday experience. Sensing a probable victory, Cory Hughey and I traveled to Cleveland from our respective burghs to sample the game-night experience on a cold Monday evening in February.
Cory: I prefer to go to a game with someone who knows the game of basketball, so that I don't have to explain what's going on like John Madden. Fortunately, my old friend Craig Wellman could go. As teenagers we would play basketball in his driveway until the sun gave up for the night. Then we'd put up lights and play until the neighbors started yelling. It was a simpler time in life that I miss dearly. Just kids playing the sport they love and never tiring from it. The pain in me knees reminds me of it everyday.
There are multiple options for getting Cavs tickets. You can enter yourself in the Cavs single game lottery system and never get seats. You can also get fleeced on Ebay, Craigslist or by a scalper for tickets also. My personal favorite way to get tickets is via Flashseats, one of Dan Gilbert's numerous enterprises. Flashseats is similar to gambling in a way (more on that later), have a number in mind that you and your company are comfortable with paying. For the 76ers game, my limit was $50 a seat. Don't forget about the tax via that Dan Gilbert gets to keep (I wanna say it's 12% but don't quote me on that). Fortunately for the snowpocolypse, tickets were going much below face value for that particular game. I saw multiple lower-level seats going for under $30 a seat.