With all the Cavs news floating around this week, we figured we needed to bring in a ringer. Former CtBer, Colin McGowan, joined me and Tom in the podcast booth for a marathon discussion. "The Mess in Massachusetts" weighed heavily on our minds, as did Kevin Love's future with the Cavs, and that was just the start. Then we asked the tough questions. Who's going to step up for the Cavs? Were the Cleveland and Boston suspensions just? Can the Cavs win in the next round? We broke down the playoff match-ups for the Cavs and the rest of the East, and gave our latest finals picks too. Then the Kevin Love surgery news broke! After lamenting, we added our thoughts on David and EG's Hack-a-DeAndre duel, video games, the the champagne of beers, and, of course T-Shirts! WHEW! Thanks to @cs_mcgowan for a very fun podcast, despite the bad news. Here's Colin's Kevin Love article from Wednesday, plus his pieces on the Boston Game, J.R. Smith, and free-throws.
Click above, on SoundCloud, or on iTunes to listen.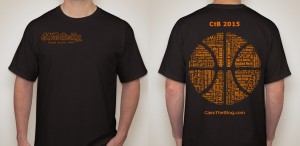 Time is also running out to buy your CtB t-shirts! Get yours in red or black! The campaign ends Monday. All proceeds go to the Lauren Hill, "The Cure Starts Now" foundation. Get swagging!