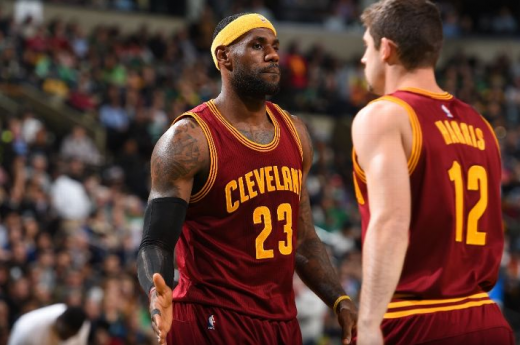 The title quote was by David Blatt after an amazing comeback win by the Cavs last night. Let's get to it.
First Quarter: This one started out with Love on the left block on offense, and then devolved to a frenetically paced post-pattern drill, highlighted by numerous Kevin Love touchdown passes, including one over two Celtics that would have mad Brian Hoyer proud. LeBron caught it and two step flushed. A full court alley-oop dunk is coming before the end of the season. Unfortunately, Cleveland was giving up more than they got and by halfway through the quarter the Cavs were down by 17-11. A David Blatt timeout ensued.
That whole meme about LeBron's lack of "explosiveness" seemed like a story from eons ago, as James looked like he was shot out of a canon every time he took off down the floor, and his pace matched the game's. At one point in the first, a Celtics-Cavs-Celtics field goal sandwich took about 10 seconds as Brandon Bass scored, LeBron beat the camera down the floor to find TT for a layup, and then Rondo returned the favor to Kelly Olynyk. This whiplash inducing sequence prompted Austin Carr to prophetically comment that at this pace the game was going to be in the 120s.