Over the course of this season, I will periodically weigh in about a player that could interest the Cavs at draft time. Initially the focus will be on wings like Harrison Barnes, Bradley Beal, Michael-Kidd Gilchrist, Jeremy Lamb, and Austin Rivers.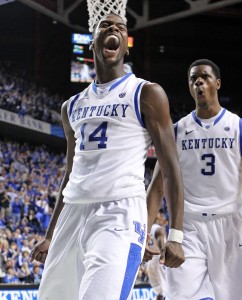 The first piece will be about Kidd-Gilchrist, primarily because I'm excited about him. ESPN.com currently has him ranked 11th in the 2012 draft, while draftexpress.com places him 12th. Through nine games at Kentucky; he's averaging 12.8 points on 59% true shooting with 7.3 rebounds, 1.2 blocks and 1.7 steals in 30 minutes per game. After initial research on the wings that may be available next summer, I started hoping for a scenario along the lines of the following for the 2011 – 2012 Cavs:
• Competitive team with occasional flashes of offensive brilliance from Kyrie Irving and defensive mastery from Tristan Thompson.
• Thirty wins in a sixty-six game season.
• With the 11th pick in the 2012 NBA draft, the Cleveland Cavaliers select Michael Kidd-Gilchrist from the University of Kentucky.
Kidd-Gilchrist is a player that ESPN describes as an "elite athlete" with an "amazing motor" and a "tough, physical defender" that "attacks the rim on offense". During his senior year of high school, draftexpress.com described him defensively as an "absolute terror, on and off the ball" and discusses him doing "his best Scotty Pippen impersonation" due to his offensive and defensive flexibility. I've heard Dick Vitale call him "warrior", "attacker", "winner, winner, winner" and "A MAN!!" And Dick Vitale is a man who uses hyperbole sparingly, so it must be true.
Assuming he enters the draft, Kidd-Gilchrist will be one of the youngest available players. Turning 19 next September, he's 13 months younger than fellow freshman Austin Rivers. He already has an NBA build at 6'7" tall and 210 lbs. Combined with his athleticism and on-court intensity, it's understandable why he was a top 4 player in his high school class. The plus skill he has right now is his defense, as he's capable of guarding three or four positions. He is an aggressive offensive player, able to put the ball on the floor in the half court or running a fast break. Possessing quality rebounding skills, decent passing, and a high level of maturity – there is a lot to like from a guy who just turned 18.
The two primary areas that still need developed in his game are his jump shooting and ball protection. A hitch in his jump shot is a critique in scouting reports; this is supported based on the three Kentucky games I've watched. He was 2 for 10-ish shooting from outside 15 feet against Kansas, St. Johns and Indiana. On a positive note, he is making 74% of his free throws and was decent from the charity stripe in high school. Turnovers are another concern; he's averaging 2.7 a game on approximately 22% of his used possessions. This is improvable though for an athletic eighteen year old with legitimate small forward size, already reasonably willing & capable of handling the ball in the half court and in transition. Many college newcomers have struggled with turnovers while adjusting to the games higher level of speed and athleticism.
For a better idea of what Kidd-Gilchrist brings to the table; I've watched three Kentucky games so far this season. One game I didn't see was UK's December 3rd victory over North Carolina. That's too bad for me, because Kidd-Gilchrist was apparently excellent, leading Kentucky with 17 points and 11 rebounds. Tasked with guarding potential top 3 pick Harrison Barnes, he helped turn Barnes into a role player. Barnes made only a single two-point field goal and shot zero free throws en route to a 14 point, 2 rebound, 0 assist showing.
In games I did watch Kidd-Gilchrist play:
November 15th against Kansas – This was just your typical 12 point, 9 rebound, 4 assist, 1 steal, 3 block game. He did start the game poorly; traveling on a post move, missing a defensive rotation, leading a fast break but turning it over, leading a fast break but missing his finish…Kentucky was losing 14 – 19 when he sat after 12 minutes. The second half allowed him to showcase his full range of talents though. During a 21-7 run to start the second half; he defended Tyshaun Taylor, a 6'3" senior shooting guard and the Jayhawks leading backcourt scorer. During this run Kidd-Gilchrist had three assists, all for shots at the basket, including two on fast breaks (his fourth assist was also for a dunk). On one series – he blocked a shot, collected it, took a few dribbles initiating the break, and then passed the ball ahead for a dunk. Those 8 seconds covered the full high end Michael Kidd-Gilchrist experience. Finally, he helped Kentucky close the game by scoring 7 points in the final 5:45 of a 10 point victory.
December 5th against St. Johns – This was his worst game of the season, as he finished with 5 points on 7 shots with only 2 rebounds, 1 assist and 1 steal. He battled foul trouble all game and missed a bunch of perimeter shots while turning the ball over three times. He wasn't able to get into the flow of the game on either end of the court. Positives included that he guarded multiple positions, including the opposing power forward occasionally. His lone assist resulted in a shot at the basket. Fellow freshman Anthony Davis was awesome with 15 points, 15 rebounds, and 8 blocks, leading Kentucky to a 25 point victory.
December 10th against Indiana – This was Kentucky's only loss to date, but Kidd-Gilchrist was a bright spot; finishing with 18 points on 75% true shooting while adding 9 rebounds against only two turnovers. Of Kentucky's vaunted front court, he posed the only real threat to IU; Anthony Davis battled foul trouble and finished with six points and Terrence Jones was a non-factor, with 4 points and 1 rebound. In addition to the points and rebounds for Kidd-Gilchrist, positives included playing the entire second half while defending / chasing IU's two leading perimeter scorers; 6'0" sharpshooting point guard Jordan Hulls and 6'5" slasher Victor Oladipo. MKG finished with two steals and two blocks and his defensive intensity was good, but he did lose his man a few times in transition and lost Hulls once in the half court; these lapses resulted in a couple of threes for IU. Oladipo shook him with a nasty crossover once too. Overall it was a very solid performance for Kidd-Gilchrist and included one highlight reel drive & dunk. This game also made it very apparent that Dick Vitale loves Kidd-Gilchrist, in some part due to what doesn't show up in a box score. Points, rebounds, steals & blocks do show up in a box score though, and also left plenty to like.
Overall, there shouldn't be surprise if MKG moves up from the current projection of 11th in the 2012 draft. If he doesn't…that's a strong draft. What NBA team can't use an athletic small forward that is committed to defense, plays a team game, and guards a couple of positions? That could be MKG's floor. If he can add a reliable jump shot and continue to develop his defense and playmaking; I think he can be the second best player to come out of the current group of college players. How's that for hyperbole?