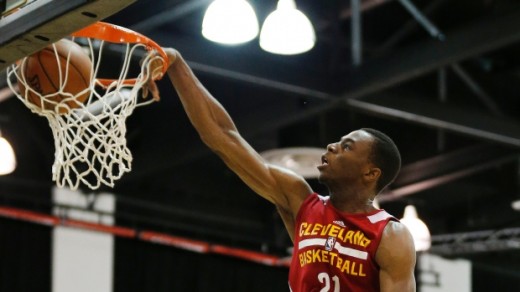 Four points I'm thinking about the Cleveland Cavaliers…
1.) There's a reason that the two sides of the Kevin Love/Andrew Wiggins debate are so equally passionate about the other side being horribly misguided. This is not necessarily an argument about the personnel moves made by a basketball team so much as it is a larger struggle between Reason and Imagination. Love, supporters of the trade that would send Minnesota a package headlined by the Cavs' recent number one pick say, immediately makes this Cavs team a contender (at least in the East) and, still only 25, would keep the Cavs championship window open well through LeBron's prime, the new extension on Kyrie Irving's contract, as well as whatever new contract the Cavs cadre (Lake Erie's new answer to the Miami mafia) convinces him is worth the signature either prior to or just after the 2014-15 season.
They are, of course, entirely right. If the only thing we can be sure of in professional sports is what we already know, then Love is a no-brainer. Whenever you have the assets to nab a top-12 player who has yet to enter his prime (which is really the scariest thought here) while still keeping the middle of your batting order together, you do it. You do not think about Anthony Bennett, reason says. You do not think about the type of player Andrew Wiggins might develop into.