This post is self-indulgent more than anything else; how did I do as a 2011 draft expert?  Is there anything to learn after the 2012 season is in the books?  One year removed, I would grade myself at a solid C, and surely there is something to take away from it all.
(Note: Colin wrote a great article on Antawn Jamison yesterday.  If you haven't read it, skip this, click on the link.)
Last year, up until one month before the draft, my attitude was basically; "Cool, I write for my favorite Cavs blog."  In the final month leading up to selection day, I buckled down and attempted to make a reasonably educated guess at how the players would fair in the NBA.  My results were mixed.  This year I hope to do better, as much of the season was spent with the frame of mind that I'm a "draft expert" (please note quotation marks.  I'm a father of two with a full time job.  I'm part "draft expert", part "Phineas and Ferb" expert, and part Engineer).  This post may be helpful towards my prioritization of prospects on draft day (it was probably less helpful in my prioritization of Life).
Anyways, this is barely a Cavs post, other than me casting my (non-counting) vote for Crocodile Kyrie as the Rookie of the Year.  So, lets get on with reviewing select aspects of the 2011 draft.
"Cavs Rookies"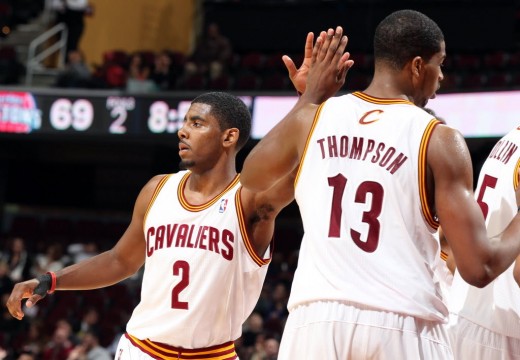 Sorry for the brief recap of the Cavs rookies, but this post is one-million words long without going in-depth into the fact that Kyrie is amazing and Tristan is raw.  Cavs:the Blog will certainly discuss each in detail this off-season.   For a few words on each player right now:
Kyrie Irving – The relatively out-of-this-world offensive stats that Kyrie flashed in 11 games at Duke translated well to the NBA.  I'm horribly biased, but he's the ROY.
Tristan Thompson – For TT, I settled on 16th best rookie season out of the 2011 class (see table below).  He'll end up better than many of the players above him though.  How could he not after helping to raise four championship banners at the Q?  Tristan improved as the year went on, and hopefully he ages like a fine wine this off-season.
_________________________________________________
Next, we'll explore players where my vantage point went against the grain last summer.  Who was smarter: me or the world?  It's a mixed bag.
"Players I was contrarian about on Draft Day 2011″
Kenneth Faried – I'm outing myself here; please don't chastise me, but instead embrace my bravery.  In summer 2011, I viewed Faried as a high energy, undersized frontcourt player without a jumper.  A player whose college stats were padded thanks to being the center in a zone in a small-conference.  When I thought of similar players, 8th men came to mind.  I ignored the obvious in front of me; rebounding is most likely to translate to the NBA and so many people were calling him a sleeper that he barely counted as such, etc.
Now, Faried is the #2 rookie from this draft class, as a highly efficient scorer and an elite NBA rebounder.       Ultimately, I'm not ready to eat crow on any player based on the results of one shortened, accelerated season though.  According to the numbers and play that I've seen, he struggles on defense, plus he's still 6'8" and only hit nine shots from 10 ft or deeper this season.  I'll let this one ride a little longer before admitting I'm an idiot.
Who this bodes well for in 2012: Certainly Thomas Robinson, but people really like him, so that doesn't count.  I'll go with Drew Gordon of New Mexico.  Gordon is a senior in a mid-major and ranked 5th in the NCAA in defensive rebounding percentage.  He's a long, high energy player.  Most sources slot him near the back end of the second round, and while he won't be Kenneth Faried, you may hear his name someday in the NBA.
Klay Thompson & Alec Burks – I liked Alec Burks a lot more than Klay Thompson.  Burks was younger, more athletic, scored more efficiently, rebounded better…shoot, he even owned the longer wingspan.
Having recounted Faried and now this comparison; I'm 0 for 2.  I viewed Thompson as a one-trick pony, but as it turns out, it's a pretty good trick.  He made 41% of his threes.  Still though, he was not a good distributor, rebounder or defender.
I'm counting on AB to eventually make me look good.  He is 17 months younger than Thompson, held his opponent to a 12.8 PER, and played the 5th most minutes of any 2011 draftee that is still battling in May.  That has to count for something, right?
Who this bodes well for in 2012: With regards to Thompson, let's say John Jenkins of Vanderbilt.  Jenkins lacks many ideal traits in an NBA shooting guard, but he possesses an extremely fast and accurate shot.  If a team is looking for someone to help fill it up with the second unit for 18 minutes a night, I think he'll get it done.
Jon Leuer – I was a big Leuer fan and advocated for the Cavs to consider him at #32.  Of the 28 players below that logged enough minutes to qualify for adjusted plus / minus, only 3 were above average in each of three advanced stats I chose.  Leuer was one of them.  He didn't see tons of minutes, but based on early results, I'll give myself a pat-on-the-back for this one.
Who this bodes well for in 2012: Mike Scott of Virginia, who's currently slotted late in the 2nd round by most.  Virginia played at the 7th slowest pace of the 345 Division I teams this year.  This really masked Scott's effectiveness; while using 30% of Cavalier possessions, his offensive rating held strong at 115, he grabbed 24% of available defensive rebounds, and he made 52% of his jump shots.  Other than being 3" shorter, the comparison to Leuer is  strong.
Iman Shumpert – Prior to draft day, from my television, it's hard to tell the mental make-up of these guys.  In college, Shumpert exhibited poor shot selection and relatively high turnover rates.  On the plus side, he was a great athlete and a ball-hawking defender.  I envisioned Shumpert in a situation where he was allowed to indulge his wild side on offense, potentially at the expense of locking down his man at the other end.  Really this was a tale of two seasons for I-Shump.  Pre All-Star break, he was shooting nearly 11 times a game and making only 38% of his field goals (25% on threes).   In the second half of the season, in similar minutes, he reduced his shot attempts to 7.5 per game while improving to 43% (35% from deep).  As long as he accepts a limited role on offense while locking-down on defense, Shumpert will be a valuable role player.
Who this bodes well for in 2012: Can Tony Wroten show up at the combine and post the highest vertical jump, then prove to have the mindset to be a lockdown NBA defender?  I'll say no, but that would be the best comparison.  The nod goes to Dion Waiters instead; he's not quite Shumpert's athletic equal, but he's the offensively aggressive combo-guard with an extremely high steal rate.  For what it's worth, I certainly like Waiters more this year than I liked Shumpert last year.
Jan Vesely – I've beaten this into the ground, but I wasn't a fan of Vesely as a top 5 pick.  So far, I'll give myself credit for being right on that.
Who this bodes poorly for in 2012: Dare I say Andre Drummond?  A big, athletic player that doesn't defensive rebound, bricks free throws at an alarming rate (30%!!!!), and lacks definable offensive skills?   Check, check, check (and no, this is not a veiled dig at TT.  My crystal ball says four championships).
Jimmy Butler – For the Cavs #32 pick in 2011, I was a big Jimmy Butler fan.  Instead the Bulls picked him at #30, where he didn't see many minutes playing for the NBA's regular-season-wins leader.  My view on JB was that he played the "right" way and would be a valuable role player on a contender someday.  Playing for Tom Thibideau can't have hurt; so I'm maintaining high hopes for Jimmy Butler.
Who this bodes well for in 2012: Butler technically didn't do anything in the NBA this year, so who is the player that may sneak into the end of the 1st round, drafted by one of the NBA's elite?  My choice is his ex-teammate at Marguette – Jae Crowder.
_____________________________________________
"Pleasant Surprises"
In this section, the players that most outperformed their draft position will be briefly expounded upon.  What can we learn from their pre-draft performance that potentially foretold of their first-season NBA success?
Isaiah Thomas – At last year's draft combine, Thomas rated top ten across the board in the jumping, agility and speed drills.  As a junior in a big conference, his offensive rating was a very respectable 114 on 27 usage.  Of the 16 point guards in the draftexpress database for 2011, he had the 2nd best pure point rating.  Described as an adept pick-and-roll ball handler and a hard-nosed defender; it seems everyone tried too hard to write Thomas off based on his size.
Who this bodes well for: There's a reason every team doesn't have a 5'10" starting point guard with a 17 PER.  With hindsight as a guide, it looks pretty reasonable to have expected Thomas to be a sub-six-footer to show that size doesn't matter.
Chandler Parsons – I'm not sure what to say about Parsons.  He didn't test as a good athlete, wasn't a particularly efficient offensive player, rarely got to the free throw line, shot poorly when there, was 23 years old at the start of the season, described as an occasionally indifferent defensive player…even in hindsight, I have trouble talking myself into him.  I know there were commenters who wanted the Cavs to draft him at #32; you're pretty smart, so remind me why.
Josh Harrellson – Everytime I tuned in for one of Harrellson's more celebrated teammates, it was easy to be impressed by him, because he played so hard.  Statistically, he was a very efficient low-usage center, with an extremely high offensive rebounding percentage.
Who this bodes well for: With consideration to Ricardo Ratliffe of Missouri, I'll say Miles Plumlee of Duke.  Both were four-year role players on perennial powerhouses, with excellent "motors" and outstanding offensive rebounding percentages.  In the run-up to the draft, I don't recall Harrellson being viewed as a draftable player.  Then he was selected 45th.  Maybe Plumlee will impress someone in workouts and interviews enough also, and warrant late second round selection.
Lavoy Allen – Allen peaked during his sophomore and junior years, with high rebounding rates and great offensive efficiency.  His senior year, he was described as coasting and his numbers were down across the board.  Leading up to draft day last year, many draft sites weren't listing him in the 60 picks.  The 76ers must have heard something in interviews that made them think his prior performance was likely to resume.
Who this bodes well for: I'm stretching here, but I'll give this to Ohio State Buckeye William Buford.  Buford converted 44% of this three pointers during his junior year, as a very efficient scorer for a top-flight Ohio State team.  This year, that percentage dropped to 36% and he plummeted down many draft boards.
_________________________________________________
If you read this far through my dis-jointed 2011 draft follow-up; I'm impressed.  Now you get to see the somewhat arbitrary table where I rank the top 49 players from this year's class.  Enjoy!!  Hopefully this endeavor has greatly improved my and your "draft expert"-ing.
The table includes Minutes, PER, Win Shares per 48 minutes, and adjusted plus / minus (with standard deviation).  If the player did not play enough minutes to qualify for adjusted plus / minus, I included their unadjusted impact on their team's 100 possession efficiency.