Cleveland scored 30 first half points as their injury depleted offense could not unlock the defensive riddle that is Dwight Howard.
Wait?
What?
Howard didn't play tonight? Oh, never mind. Well…ummm…Toronto and Sacremento won, so Cleveland again has the fifth worst record in the NBA and is tied for fourth fewest wins.
With that, let's discuss everyone's favorite collegiate shooting guard: University of Florida freshman Bradley Beal.
Beal sits in the top five on every draft board.  As one of the youngest players available, turning 19 in June, he tallied 15 points on 57% true shooting, with 7 rebounds & 2 assists per game over his one year with the Gators.  Despite a reputation as an ace marksman, he finished the season converting only 34% from long range.  Scouts love his shooting form though, and he also is a skilled shot creator that is praised for his maturity & coachability.  He reaches the foul line at a reasonable rate, attempting five free throws a game and making 77% while there.  Finally, his rebounding is elite for a shooting guard.  Per minute, pace adjusted, he ranks 4th of 83 shooting guards in the draftexpress.com database.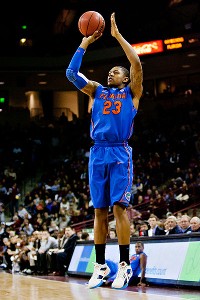 Game Summaries: According to the box score, Beal struggled in Florida's March 4th loss to Kentucky.  Scoring five points on ten shots won't get it done.  His outside shots wouldn't fall and Anthony Davis gave him headaches at the rim.  Beal exhibited a nuance to his game that can be viewed favorably however.  He showed advanced ball-handling skills with both hands and facilitated the offense well.  He understands a need to feed the post, and in addition to his four assists, dished several on-point passes that were fumbled or resulted in missed shots.  Three of his dimes came in transition, where he frequently creates opportunities by grabbing defensive rebounds and bolting down the court (six d-boards this game).  Defensively he flashed signs of strength against UK's freshman stars; on one possession staying between Marquis Teague and the basket before blocking his layup, and on another trip down the court, impeding an MKG drive with quick feet prior to stealing the ball with rabbit-fast hands.  Overall, this does not go down as a noteworthy game for Beal, but even on 1 of 10 shooting in a double-digit loss; I was impressed.
In the first game of a relatively unexpected jaunt to the NCAA tournament elite eight (Florida was a 7 seed); Beal totaled 14 points and 11 rebounds on 72% true shooting in a blowout win over Virginia.  It was a relatively nondescript game, as he scored three of his five field goals off offensive rebounds and another from a catch-and-shoot three.  He frequently brought the ball up court and initiated the Gator offense.  As the pick-and-roll ball handler, he showed good decision making; his lone assist lead to a Patric Young dunk as the roll man, and twice he set up Eric Murphy with wide open pick-and-pop eighteen footers, only to watch the shots rim out.  It was a quiet double-double in a 25-point victory; nothing wrong with that.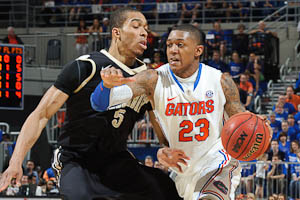 Summary: Unlike Austin Rivers, Beal closed the year very strongly.  Instead of NCAA coaches figuring him out; he began mastering the college game.  Over the last 10 games, in 35 minutes, he averaged 15.2 points, 7.8 rebounds, 2.8 assists, 1.7 turnovers, 1.5 steals, 1.5 blocks and shot 47 / 35 / 78 (60% TS and this included the 1 of 10 UK game).  Everything about that looks great, and each number represents an improvement over his first 27 games.
Like everyone else, I am high on Bradley Beal.  He's extremely skilled for an eighteen-year old and by all accounts, he works hard and possesses excellent "basketball IQ".  Most comparisons include Ray Allen and Eric Gordon.  I'm going on a quick tangent and saying that it is silly to compare any 18 year old to Ray Allen; he's a singularly unique player, maybe the greatest shooter of all time, a man that may score 25000 points and drain 3000 three pointers.  It's a strained comparison, like Bismack Biyombo to Ben Wallace, another once in a generation player.  They're eighteen years old; unless they blistered the college game for a year like Kevin Durant, no need for hyperbole.
Anyways, rant aside, the Eric Gordon comparison seems apt, to the level of him being considered a great shooter in college while only making 34% of his threes.  Gordon went on to knock down 39% his first year in the league  and was a 38% long distance shooter through three years.  That said though, Beal shows abilities of advanced ball handling, court vision and rebounding compared to Gordon.  Just like last year, if the Cavs number goes past on lottery night with another team's name in their place; I will jump high enough off of my couch that I could be a lottery pick.  To me; Anthony Davis, Michael Kidd-Gilchrist & Brad Beal are all cream-of-the-crop draft day scores.