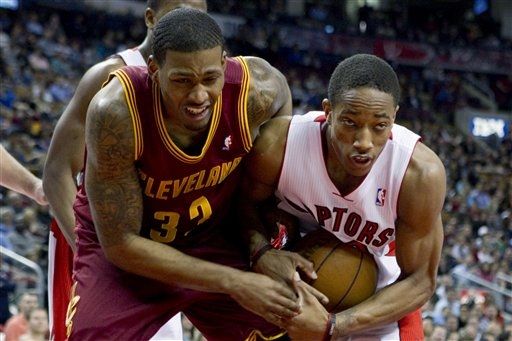 The Cavs won. That's a bad thing.
–Woof. This game was not fun to watch. The notion that the Kentucky Wildcats could beat either of these teams is ridiculous, but the notion that both these teams could defeat my ability to like basketball is valid. I don't know how two teams that play bad defense also manage to score in the low 80s, but that's the kind of magic that happens when the Raps and Cavs get together.
–Donald Sloan: still a starting point guard. Winning starting point guard. Enduring champion. Thanksgiving dinner trump card holder. D-League John Stockton. He was 2-for-8 from the field with 7 rebounds and 2 assists.
–Antawn Jamison played himself right onto the 2012-13 LA Clippers. He was the best player on the floor, scoring 24 points on 50% shooting. His defense was Jamisonian, but he was guarding Andrea Bargnani, who couldn't be bothered to shoot anything inside of 15 feet despite being very, very tall.
–A man named Lester Hudson is still on this team. He scored 21 points and was maybe the second best Cavalier tonight. Are the rest of you experiencing this whole Lester Hudson thing or am I hallucinating? Please confirm that he's a real person with a social security number and family members. Else, I'll assume he's just a fever dream and perhaps consult my friendly neighborhood pharmacist.
–Byron Scott got tossed late in the first half. He was incensed; I'm not sure with whom, exactly. Sources say he was screaming expletives at Andrea Bargnani. (Those sources are me and my friend.) For the sake of having something to talk about: I'm actually kind of proud of B-Scott. The Cavs are a banged up team that's playing for lottery balls at this point in the season; it's comforting to know that, despite accepting his fate, he completely hates it. It's almost over Byron. Starting this summer, Kyrie Irving, TT, Andy Varejao, Draft Pick X, and Free Agent Y saddle up for that eight seed. It's almost winning time.
The Cavs host the Nets on Sunday. Until then, friends.