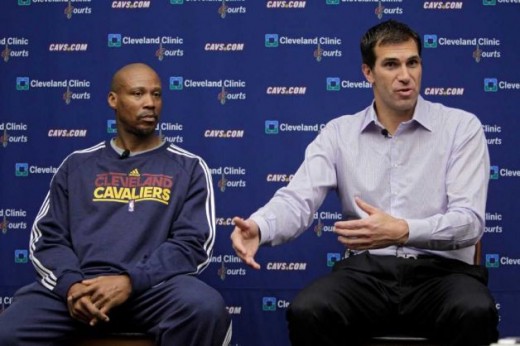 Part 1 – Reign of Construction
Chris Grant  became Cleveland Cavaliers GM on June, 4, 2010.  Due to his oversight, the Cavs plummeted from NBA contender to afterthought….    (sound of record screeching).  Just fooling around, the organization has been busy accumulating cap space and draft picks.  Given that essentially two years of decision making are in the books, let's take a look back at his personnel moves to get a feel for how he's doing.  I've rated them as follows:
Traded Mo Williams and Jamario Moon for Baron Davis and the Clippers unprotected 2011 first round pick – February 2011 – A transformative move for the franchise.  Grant started blowing up the worst team in franchise history, taking on $30 million of salary in exchange for a probable mid-lottery pick.  Good fortune struck and along came Kyrie Irving. I don't want to think about the parallel universe where there is no amnesty clause and the Cavs don't win the lottery.
Draft Day 2011 – This gets ranked second primarily based on acquiring, seemingly, a franchise cornerstone.  I still wish the Cavs had actually added players in round two, and don't strive to re-open the debate about the fourth pick, but finding a new franchise player less than one year after losing the last one  qualifies as a solid day at the office.
Won three draft picks from the Heat in a game of mahjong – July 2010 – I don't recall the specifics of how this went down.
Traded Hickson for Omri Casspi and a future first round draft pick – June 2011 – Along the same lines as the Williams & Moon trade;  jettisoning pieces of the "Lebron Cavs" was important towards moving the team forward.  Casspi hasn't been anything to gloat about, but Hickson suits up for his third team in a year, and in the next few years, Cleveland ends up with something like the 12th pick in the draft.
Signed Alonzo Gee to free agent contract – December 2010 – The Wizards waived AG and one week later the Cavs picked him up.  Pretty good value so far on this one.
Traded Sessions & Eyenga for Luke Walton & 1st round draft pick(s) – March 2012 – no need rehashing this trade; I support it.
Amnestied Baron Davis  – December 2011 – I wasn't highly supportive on this at the time.  It's not worth thinking about enough to decide if my opinion has changed.
Acquire Sessions, Hollins & 2nd round pick for Delonte & Bassy Telfair – July 2010 – Nine months after a felony gun arrest and following an erratic season; the Cavs were done with Red.  He was turned into 1.5 years of Sessions, the unique comedy stylings of Ryan Hollins, a Lakers first round choice, and these guys…
Minnesota 2013 2nd round pick traded for Semih Erden and Luke Harangody – Feb 2011 – I wonder what will be available at #48 in 2013?
Waiving Ryan Hollins – This could fall in a "too early to call" category.  It's probably wise to give it a few months and make sure Hollins doesn't embark towards getting his jersey raised to the rafters of the Boston Garden, to hang alongside previous great Celtic centers like Russell, Cowens and Parish.
Summer 2010 free agency bonanza – I'm talking about you: Joey Graham, Manny Harris and Samardo Samuels.  This is straight out of the instruction manual for "how to fill the void left when the game's best player and your stalwart center leave".
Waived Danny Green in October 2010 – Speaking of a huge hole at SF, Cleveland sent Mr. Green packing prior to the start of the 2010 – 2011 season.   Now the playoffs beckon for him, as a valuable role player on one of the NBA's best teams.   An Irving – Gee – Green backcourt surpasses any lineup the Cavs have fielded this year.
Free agency bonanza of 2011 – Please stand up, Mr. Anthony Parker and Mychel Thompson!  Have I said anything about Danny Green in this post?
Those are the bulk of the moves the Cavs have made since Chris Grant took over as GM.  Despite the lack of any overwhelmingly shrewd move (winning the lottery doesn't count), only one regrettable decision shows up (waiving Green).  The direction of the franchise appears to be very positive; clearing out the leftovers from the 2009 – 2010 team other than Varejao, while stockpiling draft picks and cap space.  The door should be open to a relatively quick turnaround.  This summer serves as Mr. Grant's next crucial opportunity to transform the Cleveland Cavaliers into a winner of his making; with four decent draft selections and hoards of cap space, next season the Cavs need to be competitive in the East while maintaining room to grow.  We certainly hope he passes that test.
Part 2 – How many players can you roster in the NBA?
Cleveland has amassed so many draft picks, they almost literally can't use them all.  One year after picking 1st and 4th, Cleveland is the only NBA team owning more than five first round draft picks over the next four drafts.  Cleveland's eight 1st round draft picks far outpace anyone else.  Add those to seven second-round selections, and Cleveland has a roster's worth of available options to add to Kyrie & TT.   What all these picks could facilitate is the subject of a different, speculative column.  Instead, I'll just touch on how sneakily good most of their "extra" first round picks can be.  Currently owned draft picks from other teams include:
• Lakers' pick in 2012.  Potentially the worst pick of the haul.
• Option of Lakers or Heat first round pick in 2013.  Assuming Ron Artest picks up his option, the Lakers have six players under contract next season for $75 million.  At the start of the season; Kobe and Pau will be 34 and 32, respectively, and coming off a hyper-aggressive NBA season and the summer Olympics.  Andrew Bynum is never a guarantee to play more than 50 games.  The other three players are Ron Artest, Steve Blake, and Christian Eyenga.  Implosion is not beyond the realm of possibilities.  I wouldn't be surprised if the Lakers pick fell at 13 or 28 next year.
• The Kings pick will probably come in 2014 (top 12 protected) or 2015 (top 10 protected).  When the Cavs do get this pick, it is almost certain to be in the 12 – 15 range.
• In 2014 – 2015, Miami might be NBA champs, or their roster may be completely turned over; the entire range of possibilities exists there.  The six players currently under contract in 2014 – 2015 cost $76 million.  All of those players will lose some tread of their tires by then, and the Big 3 have contract options after next season.  Lebron will be 30 with 1000 career games, Wade starts the season at 33 and approaching 1000 punishing games, Bosh nears 1000 career games, Mike Miller and Udonis Haslem hit 34, and Joel Anthony is 32.  Like next year's Lakers, a huge range of outcomes seem feasible.
The next month looks dire, but with the likely rookie of the year, a trove of draft picks, and great cap flexibility; I keep painting a silver lining on the cloud cast by another month chockful of double digit defeats.