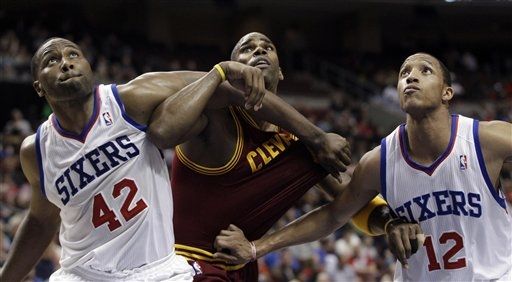 The Sixers, who are currently trying to fend off the Boston Celtics for control of the Atlantic division, took care of business against a Cavs team that checked out at halftime.
–I think we're watching a team in free fall. The Cavs look discombobulated on the offensive end and uninterested on defense. The Sixers are a team that likes to run their guards through screens, and it's not like fighting through screens from Spencer Hawes and Elton Brand is easy, but the Cavalier guards just didn't make the necessary effort to reach the Sixers' shooters. This is part of the reason Jodie Meeks (Jodie Meeks!) posted 31 points. The other reason is that Jodie Meeks turned into a human torch at some point in the second quarter.
–I think it's time to start examining the cause of all these Kyrie Irving turnovers. He had five tonight, and while my gut says it's mostly his fault that he has been so sloppy with the ball lately (he sometimes tries to play a little faster than he should), I'm gonna take a look at some game tape and figure out precisely what he and/or his teammates are doing wrong. It's an area of concern at this point.
–Lou Williams is one of the best bench scorers in the league. The Cavaliers played like they were completely unaware of this fact in the first half, when Williams scored 11 points.
–I might write about this at some point in the near future, but I have a strong affection for Alonzo Gee. Not because he's a particularly great basketball player—he's fine—but because of how hard he plays. Gee's not a particularly skilled player, but he has a Varejaonian knack for doing things that don't end up in the box score. How many times per game does he tip a rebound or a pass? How many offensive sets does he disrupt by running around a screen and clogging the passing lane? He just works so damn hard on the glass and the defensive end; my heart sings for dudes like that. He was the Cavs' lone "bright" spot tonight, finishing with 13 points, eight rebounds, and three assists along with solid defense. (Those 13 points were on 12 shots, hence the air quotes.) It's a shame he couldn't matchup against his more talented doppelgänger, Andre Iguodala. But then, if Iggy had played, the Cavs might have lost by 30.
–Luke Walton is getting way more burn than I thought he would. But then I remember the alternative is Luke Harangody.
–I note that the Cavs might be in free fall in part because their schedule gets tougher from now until the end of the season. They will occasionally face sub-par competition—the Nets, the Bobcats, the Wizards—but for the most part, they will face pretty good basketball teams and the schedule is going to be incredibly compact. We might have seen the best the Cavs have to offer this year, especially since Ramon Sessions's scoring off the bench is now absent.
The Cavs have a winnable game against Detroit tomorrow at the Q. Until then, friends.