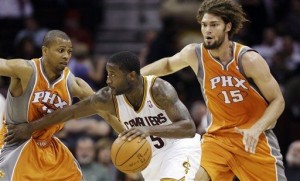 "We did a good job on Kyrie [Irving]. The guy ends up with 16 [points], six [rebounds] and four assists and we talk about what a good job we did on him. That's a testament to the kind of player that he is because that is doing a good job on him. I thought we kept him out of the paint for the most part. That kid is a great player. He's got a really, really, really bright future ahead of him." [Alvin Gentry on yesterday's Suns/Cavs game via WFNY]
"[W]hen opposing teams swing the ball, Cleveland just doesn't have the athletes to challenge shots on the perimeter. This also pulls the Cavs' big men away from the paint to help, leading to lots of easy baskets inside. Basically, they're getting killed when it comes to defending people." [Sam Amico]
And there's a debate taking place this morning about whether or not the Cavs should retain Antawn Jamison this offseason:
"It would not be outlandish to see Antawn Jamison return to the Cavaliers next year. First of all, the Cavs couldn't break the bank paying him, even though they'll be as much as $20 million under the salary cap. Jamison earned $15.1 million this season. If he would accept a contract in the $5 million or $6 million range, they might oblige. Since Tristan Thompson appears to be in line to start, Jamison might have to come off the bench. He has been a productive starter for most of his career. Even though the Wizards will have cap space, don't expect them to sign a marquee free agent. They are committed to building the team through the draft. Jamison, 35, is a good mentor for young players like Thompson. It wouldn't be totally outlandish for him to return." [CBS Sports]
"Once Jamison's $15 million contract comes off the books at season's end, the Cavs will have about $20 million in cap space to work with. Antawn would have to agree to obviously come off the bench behind Tristan Thompson in order for this scenario to work, but I get the impression he'd be willing to do that. Outside of using that cap space to sign the two First Round Draft Picks the Cavaliers will add this June, and maybe one of the two Second Round Selections, I don't see that money being spent anywhere else either. Byron Scott, Kyrie Irving, Tristan Thompson and the rest of next season's Cavaliers team are already familiar with Jamison too, and that continuity would provide additional value in these early years of the rebuilding process as well." [Brendan Bowers]
Jamison is, according to Byron Scott, "fine" after suffering a left ankle contusion in yesterday's Suns/Cavs tilt.