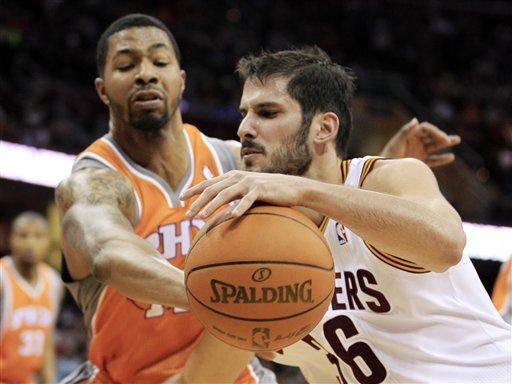 The Suns transformed the Q into a smoldering crater.
–This will be a quick recap. The Cavs were absolutely slaughtered in nearly every aspect of the game.
–You know who had a pretty good game? Omri Casspi. He was 5-for-10 from the field with 5 rebounds. He only took three shots from beyond the arc, which is both an act of capitulation and a welcome acknowledgement that he has not been, for whatever reason, a mediocre three-point shooter this season. He's still kind of a disaster defensively, but the Israeli has looked like an NBA rotation player of late.
–You know who was pretty awful? Everyone else. Antawn Jamison was 1-for-8. Kyrie Irving had five turnovers. Alonzo Gee was a minus-24. Tristan Thompson couldn't handle Marcin Gortat, who hung 22 on the rookie.
–A few of you in the comment section mentioned this: TT is suddenly not an awful free throw shooter? He was 4-for-6 in this game, but his stroke looks much smoother. If he continues to put in the work and starts shooting something close to 70%, that would be a huge addition to his game, since he's starting to figure out how to use his quickness and strength to get to the line, just like he did in college.
–Re: Donald Sloan Watch: I'm pretty sure he's not good. He has his moments, but he turns the ball over too much and isn't a particularly capable defender. I think if the Cavs are looking for a guy to make about $2-$3 mil per year to back up Irving for 12 minutes a game, they can do better than Donald Sloan.
The Cavs will travel to Philadelphia and take on the Sixers on Tuesday. Until tomorrow, friends.