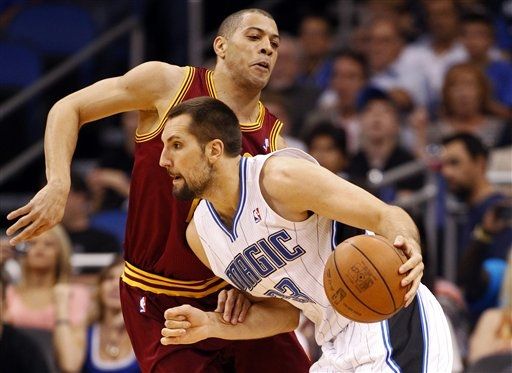 The Magic are a pretty good team. The Cavaliers are not. As logic would dictate, the Cavs lost this game handedly.
–Not a ton to break down in this one. The Cavs were just outplayed by a better basketball team. They were outshot 47% to 38%. They lost the rebounding battle by five boards. Hedo Turkoglu and Jameer Nelson each had seven assists; the Cavs had 10 assists total. The only time this was a basketball game was a brief stretch in the third quarter when the Cavs cut it to single digits. Other than that five-minute spell, the Magic dominated.
–Classic 8-for-18 performance from Antawn Jamison. He also had nine rebounds. I wouldn't normally excoriate Jamison for a lackadaisical defensive performance (it's whatever at this point), but on a night when Tristan Thompson started at center against Dwight Howard, Jamison did nothing to help the rookie. He didn't rotate on drives; he didn't help the helper when Thompson tried to protect the rim; and he didn't close out on the Magic shooters. It was… frustrating, to say the least.
–Kyrie Irving was just okay. The Magic swarmed him on D, and he had trouble finishing around the rim because Dwight Howard is the best shot blocker of his generation. 13 points, six assists, and only one turnover. Ho-hum.
–A few things about TT: he tried really hard. I don't mean for that comment to sound condescending. Faced with the challenge of starting out of position against the best center in the NBA, he could have easily decided, "Okay, I'll just keep my head down, take my beating, and hope I don't get embarrassed." He seemed to embrace the challenge, posting 15 points, 11 rebounds, and a pair of blocks. He also turned the ball over three times, and, make no mistake, Howard beat him up a little. But Thompson never stopped. On a couple of occasions, he bricked a post shot, grabbed his own rebound, and converted the put-back. When he was caught out of position, he wrapped Howard up, and sent him to the line. It wasn't always pretty, but TT didn't play poorly by any stretch. He was decent, and he never got discouraged. I'm proud of him, in a way.
The Cavs travel home to face Phoenix on Sunday. Until then, friends.