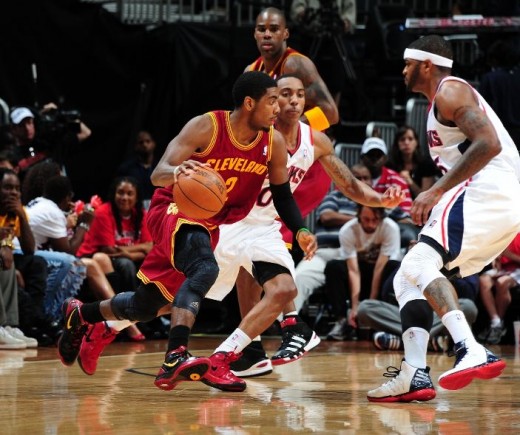 The Cavs lost in overtime because Kyrie Irving didn't score on every single shot he took.
–Okay, let me get this out of the way: Kyrie Irving turned the ball over way too much (seven times) and his defense on Jeff Teague was intermittently phantom-like. And he missed the last shot of the game because he's a human being who misses shots sometimes.
–With those caveats out of the way: wow. This might have been Irving's most impressive clutch performance of the season. He positively took over in the fourth quarter and overtime. From the time he re-entered the game in the fourth quarter with about seven minutes remaining in regulation to the final buzzer, he posted 16 points on 6-for-9 shooting. He converted buckets from all over, too: three-pointers, mid-range pull-ups, drives to the rim. Are we seeing one of the five or ten best clutch performers in the league? And is he 19 years old? It's ridiculous. He missed a bank shot to win the game, and I don't even care.
–Irving seems to be following the Chris Paul model of point guard-ing lately. He's trying to get his teammates easy buckets in the early quarters, then shoulder the scoring load in crunch time. Personally, I think this is great. I'm of the opinion that the role of a star point guard is to keep everyone involved for three-and-a-half quarters, then take over when the game is in the balance. It's just a matter of personal preference, really. The Derrick Rose/Chauncey Billups model works just fine, too. This new approach has had implications upon Irving's performances, though. He has occasionally forced passes and is turning the ball over too much. A few times in this game, he Euro-stepped toward the basket with the intention to pass, got caught with no options, and threw the ball into traffic. But he's working the kinks out. I think this mentality will be incredibly beneficial in the coming years as the players around Irving improve.
–John Hollinger made a really salient point on Twitter after Tristan Thompson got fouled on a dunk attempt in overtime: a handful of times, Irving drove into the lane and deposited the ball in TT's hands for what should have been an easy dunk or lay-in, but Thompson took way too long to gather before he jumped. Irving could have had a double-double if Thompson didn't have such a long wind-up motion for his dunks. Someone needs to work with TT as far as being prepared to catch the ball and going up with it right after it hits his hands. He's too good of an athlete to get fouled or blocked on easy buckets as much as he does.
–I know Alonzo Gee had a bad shooting game (it happens), but someone needs to get in his ear about three-pointers: namely that he shouldn't take them unless he's got a rack of flames emanating from his shoulders. It's disconcerting that Gee thinks he's the type of player that can knock down threes when he totally isn't. Dude needs to throw a pump fake at the defender and attack the rim.
–I have no thoughts on Donald Sloan. He made no impression upon me. I'm going to need some more time to figure out whether or not this guy is a backup point guard.
–Manny Harris looked like an NBA player. Not a particularly good NBA player (he got lost on defense a lot) but decent. I will continue to pull for Manny Harris until he's averaging 13 points a game for Real Madrid in the the Euroleague.
–Old Man Jamison was great for the most part, but the late-game sequence in which he took a wild scoop shot from 10 feet out, then fouled Josh Smith on the ensuing fast break was really, really ugly.
–Speaking of Josh Smith, he was 10-for-29 in this game, and I enjoyed every minute he was on the floor.
The Cavs travel to Orlando to face the Magic on Friday. Until tomorrow, friends.