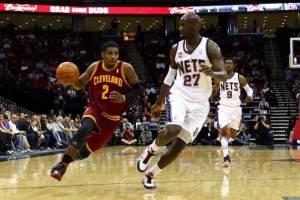 Before I get to the game, quick aside:
I'm an idiot – I Could have and should have gone to this game.  Tickets to the Nets are absurdly cheap right now – we're talking $5 for first row in the lower bowl cheap.  That's currently the state of NJ Nets basketball.
What started as a sloppy blowout turned into a pretty fun game in the last couple of minutes.  The Cavs lead by as much as 12 (or was it more?  I can't remember) points to begin with but, due to some crappy D and lots of turnovers in the second quarter, allowed the Nets to get back into the game.  Thanks to some nice interior offense (and Mr. Fourth Quarter) the Cavs were able to hang on and beat a clearly inferior team.
Onto the good, the bad, and the rest —
The Good:
Tristan Thompson's Career Day – TT had his way inside, especially in the first half, where he had already set his career points high with 17 (he ended with 27!)  When you're going up against Sheldon Williams and Mr. Kardashian things will probably work out for the best.  Tristan also had 8 O boards.  Once the Nets adjusted and put Gerald Wallace on TT, he slowed down considerably.  Still, nice game on offense TT!
Kyrie's Fourth Quarter – I mean…wow…he was just BLOWING past the competition at the end of the game.  The Nets literally threw everything at him – Deron, Wallace…yeah…that's everything…Still it didn't matter – he was hitting everything, inside and out.  As usual, Mr. Fourth Quarter was the primary reason we won in the end.
Donald Sloan – True story, I kept forgetting who number 15 was.  I wont anymore.  The former D leaguer and newly jerseyed Cav had a great second game when Kyrie's fouls took him out.  Sloan ran the O really well and hit a couple of good shots (he had 5 in the fourth quarter).  Even more surprisingly, he did a great job defending Deron Williams, which is quite the feat.  Sloan finished with a +7.
Samardo – If he keeps playing like this, I think we've finally found that rotation PF/C.  Lots of energy on both ends, took some smart shots.  Really pleased with the way he's played the past few games.
The Bad:
The Cavs D – There was almost none of it at the end of this game (or in the middle of it, for that matter.)  In particular Kyrie and Jamison were just getting manhandled – Kyrie got BLOWN away by Deron on a crazy dunk, Jamison was getting killed by Mr. Kardashian and Wallace.  (About Jamison – he literally lagged off Wallace by about two feet, daring Wallace to shoot a three, which he promptly drained.  Jamison must be injured or something, because he doesn't seem to be able to lift his arms up when people shoot the ball…) Even Gee got burned a few times.  Playing such poor D will work alright against the Nets, but that's not going to fly against pretty much any other team.
TT's D Rebounding – This is seriously starting to worry me.  He had FOUR (seriously…FOUR) rebounds and he played for almost 38 minutes.  Thompson spends so much time up in the air while guys are shooting that he always seems to end up facing away from the basket when the ball bounces off.  Mr. K and Sheldon Williams combined for 6 O rebounds – I'm attributing at least a couple of those to TT.  Keep your eye on this, because if his D rebounding doesn't improve, it'll quickly become a major sticking point.
The Rest:
Boobie Gibson left in the 3rd with an ankle (?) injury.  Since Sloan looks more than competent, maybe this means we'll see some more Manny?
Speaking of Manny, he was inactive tonight.
Finally, a weird fact I did not know – turns out Kidd-Gilchrist and Kyrie played on the same high school team.  Maybe that wasn't the last time they'll play together…?
Keep your eyes peeled for our next podcast, which I will post tomorrow (we recorded today).
All in all, an ugly game that turned into a decent game.  Cavs get the Hawks on Wednesday (and then Magic on Friday).  Until then, friends…