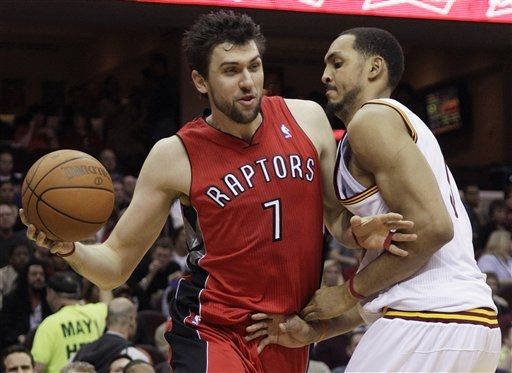 Due to a puzzlingly flat performance, the Cavs lost to the Raptors in a game that wasn't as close as the final score indicates.
–It's not like the Raptors dominated this game or the Cavaliers closed an 18-point gap in garbage time, but the game didn't feel terribly winnable after the Raps exploded for 33 points in the second quarter. The Raptors dominated the boards (45-34), and that rebounding differential indicates how much harder they played for 48 minutes.
–The Raptors are Kyriptonite. (I'm so sorry for that one, you guys.) He was thoroughly outplayed by Jerryd Bayless—who seemed to relish the challenge—and shot a paltry 5-for-17 from the field. Irving did some good things. He had seven assists, seven boards, and only one turnover. I think the way the Raptors defend the paint—they're a very long, athletic team along their frontline—is one of the reasons Irving struggles so much against the Raptors. He had a number of shots blocked and altered when he entered the paint. Or maybe Irving is just trying to improve his friendship with Tristan Thompson by taking it easy on TT's boyhood team. There has to be an explanation why he plays his worst basketball against one of the worst teams in the East.
–Speaking of TT… well, there's not much to speak of. He did go 5-for-6 from the free throw line! To balance that out and return to his average, I assume he will have a game where he goes 0-for-15 before the season is over.
–These sorts of games illuminate why Antawn Jamison is both valuable to this team and not actually all that good. He put up 20 points, which was essential in keeping the offensively-challenged Cavaliers in the game, but he did it on 8-for-18 shooting, posted no rebounds, one assist, and played his usual brand of translucent defense. He also airballed a 20-foot two-pointer with, like, 20 seconds left on the shot clock about eight minutes into the fourth quarter. Antawn Jamison is the Oliver Stone of the NBA. He has a positive reputation that's not entirely unfounded, but still: I mean, he's terrible. (In this analogy, I believe Wall Street is Jamison's leadership qualities, and Wall Street 2: Money Is an Inanimate Object So Why Would It Ever Sleep in the First Place is his inability to guard anyone born of woman and whose name contains a vowel.)
–Man, remember when the Suns were good and Leandro Barbosa would seemingly jump off the bench every night and drop 11 points in 2 minutes? He did that in this game. He posted a 12-point second quarter in which he drained a couple threes, a pull-up, and converted a few forays to the rim. Also, he's only 29? Can we get Leandro Barbosa on a good team so he can do Leandro things once or twice per playoff series? I miss Brazilian Jamal Crawford being relevant.
Anyway, the Cavs will be in Milwaukee tomorrow to face what I believe will be a depleted Bucks team (since Monta won't be uniform yet). Until tomorrow, friends.