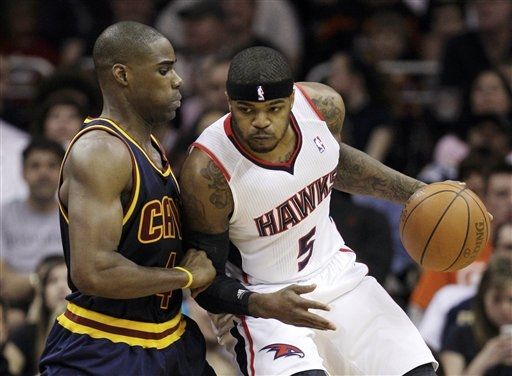 I have the privilege of covering the first post-trade deadline Cavs tilt. For a mid-season tussle between the sixth and tenth best teams in the East, this game includes some intrigue. Tristan Thompson starts at center for the first time, and Cleveland gets a look at D-League dynamo Donald Sloan, in his audition for back-up point guard duties.
Hopefully the Cavs give Sloan some decent minutes over the rest of the season. If there has been an "opportunity lost" this season, it's not trying out random young guys. Within the re-building process, there are (ideally) only a couple of seasons to let unproven players strut their stuff. Last year is not for duplication; but Eyenga, Gee, Harris, Samuels and Harangody all saw significant floor time, and Cleveland found a player in Gee. Why the Cavs didn't draft someone at #32 and #54 and why Manny Harris has only played 19 minutes this season is lost on me; did we need to see if Irving, Gibson, AND Sessions could make it work on the court at the same time? Or did Luke Harangody need to play back-up small forward for two games? Finally, most perplexingly, why is Ryan Hollins still in the NBA? Between Harris, two second round draft picks and now Sloan, maybe another unexpected rotation player could have been unearthed. With Sloan and Manny, there's still a chance. In the near future, hopefully there aren't any rotation minutes available for "walk-ons", so might as well do it now. There's actually been a pretty big NBA success story by a resurgent D-Leaguer this year…I can't think of his name right now…he got a little press…Jeremy something. Anyways, hopefully Mr. Sloan proves capable of leading the second unit for a few months (or years). If not, the stakes were low.
The next month and a half could be painful. The Cavs have played the least games in the NBA; what that means obviously, is that they have the most left to play. Twenty-five games in forty days, with fourteen on the road, for a young and increasingly less-deep team is problematic. Who guessed that day-to-day respectability for Cleveland would hinge on Donald Sloan?
Regardless of how it goes, it's only six weeks. Irving, Varejao, Gee, Thompson, one mid-lottery pick, three other top-forty selections (hopefully two rookies contribute next year) and a couple of solid free agents should have the Cavs battling in the East next year. Better things are on the horizon.
Now, onto today's game…Things started poorly, as the starters took the Cavs to an early 11 – 19 deficit. When Jamison is missing (0 for 4 in 1st quarter), this unit just doesn't score enough. The Hawks kept the ball moving and found a lot of open shooters, finishing the first frame five of seven from long range. Irving and Gee scored 15 of the Cavs 19 points. Irving was the real bright spot, registering 8 points without missing a shot, to go with 3 assists and no turnovers. The second quarter featured more of the same. Irving and Gee provided the only reliable offense, Joe Johnson looked too big for Gee to handle, and the Hawks were on fire from deep, leaving the half ahead 59 – 45. Irving and Gee combined for 26 of those 45. In the third, Atlanta's long range bombing returned to this planet, and Cleveland actually chopped their deficit to 6 points late in the quarter. Irving moved the ball expertly, setting up shooters from deep and at the rim, largely benefitting Antawn, who tallied eleven points on the quarter. Unfortunately, the Cavs' preferred second string today was Gibson, Parker, Casspi, Samuels and Thompson. That lineup is not going to score against NBA defenses; Atlanta started the fourth quarter on a 12 to 4 run and never looked back. No amazing fourth quarter heroics from Kyrie, and the Hawks won by a final score of 103 to 87.
Onto some bullets:
• Kyrie Irving had great command of the offense: 19 points on 14 shots with 10 assists and 2 turnovers. The "smoothness" of the Cavs offense drops by approximately 372% when point guard duties change from Irving to Gibson. With Gibson as PG, the Cavs completely function as a jump shooting team. For two stretches, the Cavs backcourt was Gibson, Parker, Casspi. These players all have a role in the NBA; unfortunately it's all the same role – spotted up in the corner, waiting to drain an open three. Trying to run an NBA offense through those three is not possible (it didn't help they were teamed with Thompson and Samuels).
• This brings me to Donald Sloan. I'm intrigued by Sloan. After four years at Texas A&M, he won MVP of the pre-draft Portsmouth Invitational in 2010. Apparently he's an aggressive, scoring minded combo-guard, but he also exhibits decent court vision. Last year, in 54 D-League games he averaged 11 points on 50% field goal shooting, but also had a 2.5 to 1 assist to turnover ratio. In 8 games this year, his numbers increased to 22 points per game, still with 50% shooting (80% free throws) and 7.4 assists. Daniel Gibson should not be the back-up point guard; hopefully Sloan starts seeing 15 minutes a game ASAP. There is zero risk in letting this happen.
• Along the same lines of thinking; someone please explain Anthony Parker playing 34 minutes. We do know that Manny Harris and Donald Sloan are alive; they played one minute and twenty-one seconds of garbage time. Manny scored four points and Sloan assisted on one of those buckets. I don't know how Parker's 6 points on 3 of 10 shooting makes sense for the present or the future.
• Alonzo Gee tied a career high in scoring with 20 points to go beside 9 rebounds. He's awesome. I counted at least three Sportscenter worthy dunks as part of his scoring onslaught.
• I've tried to be optimistic about Thompson…he's twenty…he's athletic and plays hard…etc, etc, etc. In nine March games though, he's averaging 5 points and 5 rebounds in 24 minutes per game on 28% field goal shooting. There hasn't been a ray of sunshine from TT in a while now. My expectations have always been relatively controlled, something like "great third big man on a contender", but it would be outstanding if TT could roll out a double-double here soon. Ya know, make me remember that he's capable of contributing.
• The Hawks shot way too many open threes in the first half. During this time, Josh Smith mainly dribbled unobstructed, drew an extra defender and kicked to an open shooter. In addition, Jamison was 6 of 22; this was definitely a bad Antawn game.
That's it for now. Cleveland plays every day from now until the end of April. Just kidding, but they do play at New Jersey tomorrow. Maybe we'll get to see D-Sloan abuse D-Will. Here's to wishful thinking.