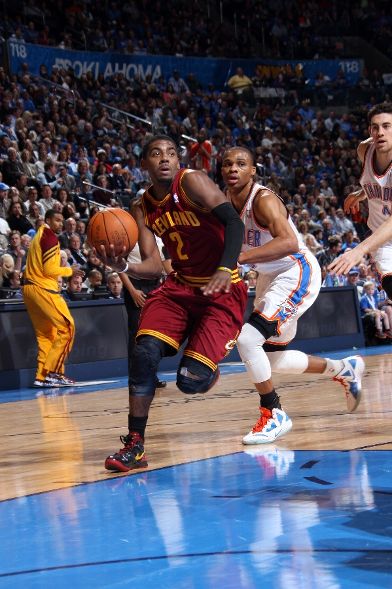 –Kyrie [Gleeful Expletive] Irving. On one hand, he was a mere 4-for-12 from the field. On the other hand, the Thunder frequently tried to take the ball out of his hands, and he obliged with 12 assists and just one turnovers. On the mutant third hand growing out of my chest, he single-handedly won the game in the final two minutes, twice blowing by the Thunder's perimeter D for buckets at the rim, then putting Kendrick Perkins on his backside before dishing to an open Antawn Jamison for an uncontested lay-in. He also held Russell Westbrook to 19 points and four assists on 8-for-17 shooting. Anytime he wants to post a respectable defensive effort against one of the best point guards in the league, I'm cool with it.
–The Cavs had 21 offensive boards in this game, in part thanks to the board-crashing of Tristan Thompson, who pulled down six offensive rebounds. TT had an awful shooting night (2-for-8), but, y'know, he tried hard.
–Anthony Parker played great. He pulled out all his best old man defender tricks on the perimeter, and he was 6-for-8 from the field. I feel compelled to mention this because, I'm not sure if I've been dumping on Parker a lot in these recaps, but I've certainly been cussing him out in my living room.
–Shouts to Alonzo Gee for not looking like a scrub against Kevin Durant, who has a habit of making professional basketball players look like scrubs. KD missed a couple decent looks late, but you can't complain about holding the best pure scorer in the league to 23.
–One can only hope that TT studies tape of Serge Ibaka. Dude was a shot-swatting menace in this game.
–The Thunder were 17-1 at home before this defeat. I believe, using the transitive property, that this makes the Cavs the third-best team in the league.
The Cavs return home to face the Rockets on Sunday. Enjoy the weekend, friends.