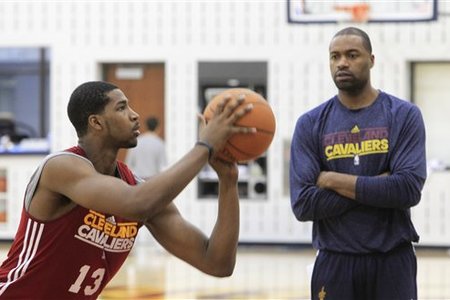 On Tuesday, I pulled the camera lens back a bit on Tristan Thompson's burgeoning NBA career. While I think it's important to keep a broad perspective when assessing young players, we should also take a look at TT's game in more practical terms.
The table below shows some numbers from the rookie seasons of players with Thompson-like skill sets. It's a series of imperfect comparisons. Obviously, Thompson is a better athlete than Anderson Varejao, Jordan Hill is more of a center than a power forward, etc. It's difficult to find a player exactly like Thompson, so I included a broad range of players. I think putting Thompson side-by-side with these somewhat similar players gives us some insight into his rookie season through 31 games.
| | | | | | | | | | |
| --- | --- | --- | --- | --- | --- | --- | --- | --- | --- |
| Name | Age | MPG | FG% | TS% | PPG | TR% | BLK% | PFG | PER |
| T. Thompson | 20 | 19.8 | 41.9 | 43.8 | 6.9 | 16.8 | 4.4 | 1.9 | 13.3 |
| Joakim Noah | 22 | 20.7 | 48.2 | 53.9 | 6.6 | 15.3 | 3.3 | 2.3 | 15.5 |
| Serge Ibaka | 20 | 18.1 | 54.3 | 56.2 | 6.3 | 17.2 | 5.5 | 2.7 | 15.2 |
| A. Varejao | 22 | 16 | 51.3 | 53.4 | 4.9 | 17.6 | 3.3 | 2.3 | 17 |
| Tyrus Thomas | 20 | 13.4 | 47.5 | 52.1 | 5.2 | 15.9 | 6.2 | 2.3 | 14.8 |
| Jordan Hill | 22 | 13.3 | 49.3 | 52.8 | 5.2 | 16 | 2.5 | 2 | 15 |
| Derrick Favors | 19 | 19.7 | 51.7 | 54.2 | 6.8 | 16 | 3.5 | 3.2 | 13.9 |
I'm hesitant to make too many claims based on the statistics of rookies who spent more time on the bench than on the court, but the numbers illuminate a few things. In a couple of places, we can see where a player had an NBA-ready skill in their rookie season. Serge Ibaka's block percentage and Anderson Varejao's rebound percentage illustrate that, even as overmatched rookies, they did one thing incredibly well. (And Tyrus Thomas, who is not particularly great at blocking shots, takes a blowtorch to this premise, but let's chalk that up to him being Tyrus Thomas.) Thompson, like Varejao and Ibaka, has a terrific rebounding percentage, which bodes well for his ability to grab double-digit boards once he's given sufficient playing time.
Another more obvious takeaway from this statistical comparison is that none of these rookies (some now quite good NBA players) were particularly effective. The highest PER is from Varejao, and he was a 22 year-old rook. We tend to overlook this simple fact when we talk about first-year players, I think because the majority of the dialogue about rookies tends to revolve around the handful of players vying for Rookie of the Year honors. But most first-year players don't adjust well to the NBA game. They're either ineffectual or overmatched. Thompson has vacillated between the two, and the statistics show he's in good company. It's unfair to Thompson that he was drafted three slots behind a spectacular scorer like Kyrie Irving. We've seen from the performances of last year's draft class that the drop-off between Irving and everyone else is steep. While Irving is carving up defenses, the rest of the league's rookies have shown flashes of potential followed by extended slumps. Irving's only Rookie of the Year competition is coming from Ricky Rubio, who was drafted three years ago. Thompson was drafted in the top five, but it would be generous to consider him a conventional top five talent, especially considering how many of Thompson's peers elected to stay in college another year due to the lockout.
What should concern Cavs fans is that Thompson has no offensive game. This is apparent when you watch him play, and the numbers reflect this reality. Merging observations with statistics, Thompson's exceedingly low shooting percentages are the product of the times he receives the ball in a stationary position. I don't know why he demands or receives the ball in these situations. When he's not receiving the ball on a cut or off of a rebound, Thompson is forced to utilize his paltry offensive arsenal. In face-up situations, he often tries to use his quickness to get around his man, but because the defender doesn't have to respect his jumper, Thompson's quickness is rendered ineffective, and he ends up barreling into his defender's chest. TT's back to the basket game seems at this point to consist solely of a running hook fired at about a six degree angle. He doesn't often get to the free throw line in one-on-one situations (he was quite good at drawing fouls in college), and even if he did, he shoots just 47.3% from the stripe.
I think what we're seeing from Thompson is a player who is adjusting to the superior athleticism of the NBA. In college, he was often the most athletic big man on the floor by a wide margin, and he could use his athletic advantage to get around opponents and draw fouls. He's still a freak by NBA standards, but the gap between Thompson's athleticism and the athleticism of the average forward defending him has lessened. Plus, NBA competition plays him more intelligently. Why press a guy who can't shoot when he's standing 12 feet from the basket? NBA defenders take an extra half-step off Thompson so they can better react to his inevitable move toward the basket.
The obvious solution to this problem is for TT to develop a reliable 14-footer or a couple of post moves (athletic as he is, shouldn't he be able to hone a good up-and-under?) that defenders need to respect. I'm reading intentions here, but either Chris Grant and co. thought Thompson was capable of improving offensively or they thought he was going to be so devastatingly effective on the boards and the defensive end that any offensive improvement would be a bonus. I have to believe the Cavalier front office was thinking Thompson would figure it out on the offensive end, in part because the reason a lot of the advanced metrics guys loved Thompson coming out of the draft was because of his ability to score the ball efficiently, and it's not like he was a dominant defensive force in college. As his game is currently constituted, Thompson can score efficiently, but that means never giving him the ball on the block or elbow. He can probably put up six to eight points per game on rebounds and dunks, but unless he becomes Josh Smith on the defensive end, that's a disappointing future for a guy who's supposed to be a fixture in the starting lineup over the next half-decade plus.
I keep returning to the unknowability of Tristan Thompson. If this article were written in a more stream-of-consciousness style, every third sentence would be "I dunno." But I just can't figure him out. Or more accurately: I can't figure out how he becomes better a lot better than he is right now. When we talk about prospects, we often talk about their potential to develop into a better shooter/passer/rebounder/etc. For example, Kyrie Irving's assist totals don't jump off the page, but once or twice a game he makes a terrific pass, so there's hope that as his understanding of the NBA game improves in concert with his teammates, he can eventually average seven to nine dimes a game. Thompson's potential to develop a specific area of his game isn't as apparent. He's a tremendous athlete who tries very hard, but it's difficult to discern his nascent skills aside from his knack for pulling down offensive boards. Cavalier fans can dream of him developing a LaMarcus Aldridge-like baseline jumper, but I don't see the ingredients for that shot.
I think we're going to learn a lot about Thompson at the outset of next season. Not that he's suddenly going to turn into Pau Gasol, but if he's as committed to working hard as the Cavaliers believe he is, he'll lock himself in the gym this summer until he comes up with some semblance of an offensive game. Until then, drink in the athleticism and grit your teeth every time he catches and faces from 13 feet.