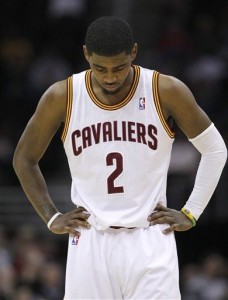 (Chin up, Kyrie – next year you wont even have to score in the first half – you'll have Kidd-Gilchrist to do that for you)
Well, there goes our last shot for a win for a while.  For better or worse, the Cavs now face three straight playoff bound teams.  The story here is pretty much the same as always – inability to do much inside, lack of scorers, slow first three quarters, etc. etc.
The Good:
Kyrie and Antawn – They were our point leaders.  Is anyone surprised by that?  That being said, it, again, took Kyrie a long time to get into the game.  I know most of our readers wouldn't agree with me, but it's somewhat worrisome that Kyrie doesn't seem able to turn it on until late in the game – his first basket didn't come until the third quarter.  If he was able to get it going early, maybe we'd have a shot? (pun intended)
Alzon Gee – He looked a little more lively than he has the past few games.  Maybe he's coming back into his own?
The Bad:
Interior D – I realize Utah really doesn't have a ton beyond it's 20 centers (or however many they have…4?) but Al Jefferson absolutely had his way with us.  Milsap played nicely too.  The lack of interior D, of course, opened the door for…
Our inability to stop Gordon Hayward – He was on fire (8-11 including 2-3 for three point land).  We basically let the 12 year old do whatever he wanted, and he literally did whatever he wanted.
Our ability to score in the 2nd and 3rd quarters – Maybe if we didn't have to claw our way back in the fourth we'd be more in these games.  Not sure how the Cavs can fix this, but something's gotta change.  I realize we almost closed the gap, but this is a terrible precedent to have.
The Rest:
Don't forget about the first Cavs: The Blog Podcast, which you can download from;
http://www.mediafire.com/?t9xv6qdx32d3egz
and you can stream from:
http://soundcloud.com/cavstheblog/cavs-the-podcast-03-04-2012
Until next time…