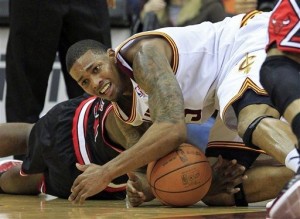 …And it wasn't as close as the score indicates. I have only three takeaways:
–Manny Harris played 18 minutes and looked competent (kinda maybe sort of good, even). Can we give this guy a real contract at the end of the season? He has a cool name, is athletic, and can probably be an 11th or 12th man in this league. I'm totally fine with that being the entire rationale for my Manny Harris fixation.
–There's not really a second thing. Samardo Samuels isn't very good, huh? I feel like we already knew that, though. Did you know the Bulls shot 50% from behind the stripe in this game? Would you be comfortable with that being the second bullet point? I'm going to move on anyway.
–Luke "Terry Banks" Harangody makes things happen when he's on the floor. He was a plus-seven in six minutes. If we extrapolate that data, the Cavs would have won this game by 56 if he had played the entire game Wilt Chamberlain style. They're called statistics, Byron Scott. Maybe you should examine them sometime.
The Cavs have the Wiz tomorrow; it'll be a good opportunity to snap this losing streak. Until tomorrow, friends.