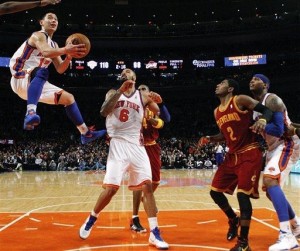 As most of you have probably come to learn over the last few months, I tend towards hyperbole when writing.  I have a flair for the dramatic, so sue me.  But what I am about to say comes from deep down.  It's not hyperbole, it's my honest to god belief.  This loss was catastrophic for the Cavs.
That score tells only a small portion of the story.  The Cavs lead by as much as 17 in the first half, and went into the third quarter leading by 12.  They weren't playing their best, but the guys were staying tough, and, behind a great first half from Jamison and a fantastic second quarter by Gibson, looking well on their way to a big win.  Then it all fell apart.  Casspi's D on Melo was horrific, Scott waited too long to sub Gee in.  Then, of course, Novak caught fire and it was over from there.
But the catastrophe extends beyond a heart-wrenching loss to a rising team.  Considering how the first two post-All Star break games have played out, I'm starting to worry.  Irving has looked far more lost than I've ever seen him, and suddenly we're depending on the bench a little too much.  Our D looks confused and the heart just doesn't seem to be there anymore.  To be up by so much and then fall so badly is a giant red flag, especially after last night's loss.  I have a horrible fear that what we're witnessing is the rapid deterioration of a once promising season.
Two more points of note are how horrible our interior offense was, and how many fouls we committed over the course of the game.  Yes, Chandler is a top tier center, but Thompson, Erden, and Jamison showed zero muscle in this game.  Every time they'd go up for a shot inside they were immediately rejected.  And, since our outside shooting wasn't really falling (beyond Boobie) this spelled disaster for the Cavs.  As for the fouls, I believe that was the catalyst to the downfall.  Even in the first half, the Cavs came out a little chippier than they should have.  Erden spent most of the game on the bench because of it, and Thompson had 5 at the end of the game.  In total, the Cavs had 31.  That's bad.
I could go on and on, but I suppose it's time to move on.  One quick happy note – Harangody had easily his best game as a Cav.  He played for 10 minutes, and his +/- was 0(!!!) on the game.  He had some nice disruptive D and hit a nice shot.  I think my opinion on him could be swayed with a few more performances like this.
An aside – this was the first game I've attended at the Garden in nearly 8 years.  I had a fun little idea planned for the game, but with this loss I decided to keep it simple.  Still, it's worth noting that even though Lin had a pretty unmemorable game, the crowd was living on every moment he was in there.  It was also pretty funny to hear them chant for Novak when he wasn't in the game.  The crowd was dead for most of the first half, too.  Too bad it didn't last.
Until next time…