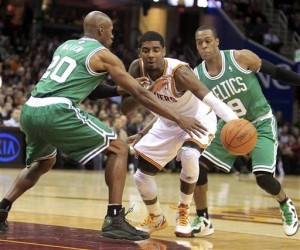 Despite coming back from a 13-point deficit to lead by two heading into the final period, the Cavs came up short in the game's final minutes.
–Kyrie Irving posted 24 points on 8-for-14 shooting and outplayed Rajon Rondo, who finished with no points and 11 assists. He was great, for the most part. In the last two minutes of the game, however, he missed a pair of running lay-ins (they weren't easy or particularly smart shots) and threw a bad pass into the arms of Kevin Garnett. Whatever, he screwed up. The Celtics did a good job of pressuring him into bad decisions, and he looked like a 19 year-old for once. Point: old guys.
–The ostensible key to this loss was the Cavs inability to defend the three-point line (the Celts were 7-for-17 from behind the stripe), but they actually did an admirable job against Ray Allen (4-for-8 from long range), who simply got hot. The rest of the Celtics were a combined 3-for-9 from three-point land. The Cavs perimeter D this season has been sub-par, but not nearly as bad as last season. They are currently allowing teams to shoot 35.3% on threes, good for 19th in the league.
–Anthony Parker returned tonight after an extended struggle with back pain. He was completely ineffective, scoring one point on 0-for-4 shooting and committing a pair of turnovers. Beyond the box score, I'm sure that something something veteran presence something something professional was a crucial element in tonight's game.
–Antawn Jamison was 4-for-15 from the field, got outplayed by KG (as is his wont), and somehow I'm not really that upset with him? He crashed the boards with alacrity a handful of times tonight. Maybe, like a dog whose urine has stained every inch of carpet in my apartment, I am compelled to either fly into a fit of rage every time he does something stupid or proclaim my undying love for him. I'm too tired to be apoplectic anymore. Screw it, Antawn Jamison: my all-time favorite Cavalier. Someone get this husk of a man a number four jersey.
–TT had an eventful night. He was 5-for-9 from the field with 10 rebounds in 27 minutes of action. I know he's more athletic than anyone on Boston's front line, but that's an impressive performance against the likes of KG, and, um… regardless, I remain impressed. Also: never start a post move more than four feet away from the basket, Tristan. It will only end in heartbreak.
–Manny Harris was in the game for six seconds. How did it taste, Manny?
The Cavs visit the Big Apple tomorrow to take on the Knicks. Irving and Lin might hang 35 on each other.