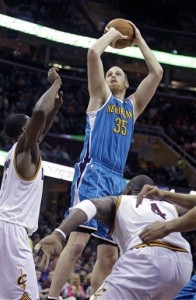 The Hornets defeated the Cavs in an utter rock fight.
–Don't let the scoreline fool you: this game was a mess for both teams. The Hornets shot just 40% from the field and led for the duration of the game. This is because the Cavs shot a paltry 32%, including a 6-27 performance from behind the stripe.
–Irving had his worst night as a professional, shooting 2-13 from the field. He did have a career-high 11 assists, but his wayward shot overshadowed his court vision tonight.
–Marco Belinelli looked great tonight. He was 8-13, including a dagger three with a minute left. Marco Belinelli.
–If Cavs fans are to take any sort of silver lining from this game, it's indication that Tristan Thompson might have the Andy Varejao rebounding gene. TT had an ugly game (like almost every player on the floor tonight), but he grabbed six offensive boards (ten total) in just sixteen minutes of action.
–I would be remiss if I didn't give Antawn Jamison some more much-deserved credit. He wasn't as efficient as last night (8-22 from the floor), but on a night when Irving didn't have it, Jamison kept the Cavaliers in the ballgame. Way to raise that trade stock, 'Tawn.
–Chris Kaman shot the ball 25 times in this game, and would have led all scorers if Antawn Jamison hadn't dropped in a couple garbage time buckets. That's as good a summary as I can offer.
The Cavs have almost a week off before the Celtics come to town on Tuesday. Time to rest legs that look incredibly weary. Until tomorrow, friends.