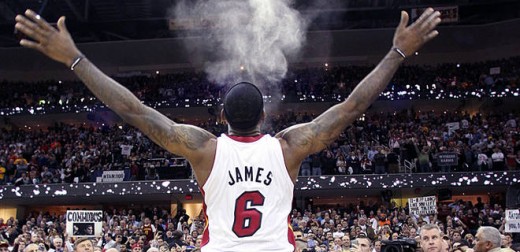 On Thursday, after a Heat practice before Friday's game against the Cavaliers, LeBron James responded to a reporter's question about a possible return to Cleveland by stating it would be "fun to play in front of [Cavs] fans again. I had a lot of fun times here… I'm here as a Miami player and I'm happy where I am now but I don't rule that out in any sense. If I decide to come back, hopefully the fans will accept me."
Bron's statement is the latest Twitter-exploding product of the weird psychodrama in which he has participated since sometime in 2008 when Sportscenter producers, attempting to kill time during slow news days, filled empty content blocks with speculation as to where he would land in the summer of 2010. After two years of playing coy with the media, a summer of placating his id, and a season and a half playing for the most hated team in the league, LeBron now reminds me increasingly of Jeffrey Beaumont. He struck out for the idea of Miami—balmy weather, sex, neon—but the rabbit hole went deeper than he could initially fathom. He's being beaten to the tune of Roy Orbison's "In Dreams." He just wants to go home.
Metaphorically speaking. I don't think LeBron James wants to play basketball in Cleveland again. Rather, he wants everything to be like it was when he played in Cleveland, when he was the closest thing the league had to a nationwide fan favorite. He wants fans in other NBA cities to admire, even covet, him. He wants to win a championship and say he did it for his hometown, even though I think it's pretty irrelevant to LeBron where and for whom he wins a title. He wants 2008 again, but without Mo Williams clanking wide-open threes. He feels bad, too. Remorse hit him like a sneak-attack hangover. He wants Cavs fans to not hate him anymore, perhaps not so they won't feel anguished, but so that he won't have to bear the burden of being the cause of their anguish. His motivations for tone-deaf half-promises of a return to Cleveland are selfish, but also well-intentioned in their own ineffectual way.
The Akron Beacon's Jason Lloyd, in an article about the feasibility of an LBJ Cleveland homecoming, described Bron as "fairly calculated and savvy with the media," which was true two years ago. For most of his time in Cleveland, LeBron was an opaque amalgam of talent, team-first platitudes, and exuberance. On a macro scale, he talked about championships; on a micro scale, he wanted "get better" every day; on the court, he conducted himself like a superhero who realized, each day anew, that he could fly. NBA fans knew almost nothing about him. This formula—being great, never saying anything controversial, and playing joyfully—endeared LeBron to even non-Cavs fans. Since deviating from that formula, LeBron has grown increasingly translucent; it's now apparent that Cavaliers Era LeBron's immense popularity was an essential component of his identity.
We know this because James spent last season in Miami trying to figure out who he was after realizing he had taken a blowtorch to LeBron James, Universally-Beloved Superstar. He made a token attempt to embrace the villain tag many fans and commentators placed upon him, but when LeBron buried a pair of clutch threes in an overtime game against the Blazers and taunted the Portland crowd, it didn't feel right. The black hat doesn't suit him because he's not a spiteful player. A Kobe-like inferiority complex is the incorrect fuel for his engine. If his on-court actions in seven seasons with the Cavaliers are any indication, a crucial element of LeBron's game is how much fun he has playing basketball. And fun is sort of an inclusive process: it's difficult to have fun when the crowd wants to murder you in a well. The experience of knocking that crowd on their ass is fun for some athletes—I recall Derek Jeter once saying that he liked nothing more than to silence Fenway Park—but I'm not sure a stone-faced assassination of 20,000 ornery Bulls fans is LeBron's ideal night. He would rather those Bulls fans harbor an awful respect for him. Which is why his post-Cavs career, as it unfolds, seems as much a nomadic quest to be liked again as it does the pursuit of a ring. If Kobe's MJ emulation act is about equaling or surpassing Jordan's greatness, LeBron most admires Michael's near-unblemished approval rating. Becoming a global icon, after all, is only incidentally about winning.
Of course, LeBron has probably put the global icon thing on the back burner. He has championships to win, and when he arrived at the Quicken Loans Arena for a Thursday practice, he had fences to mend. This newfound concern over the damage he has inflicted is why Bron gives us puzzling quotes like the ones he made Thursday. He has finally realized that the antipathy generated by The Decision was mostly his fault, and he's trying to salve the wound without much understanding of how he can repair his relationship with Cavaliers fans. He did all he could do when he admitted that he made a mistake, but the strange prognostication that followed came from a place of unabsolvable guilt. Maybe if I tell Cleveland fans that there's a slight possibility I will play for the Cavs again, they'll understand that I didn't mean to hurt their feelings. It's logic lifted straight from Kanye's 2010 apology tour: if you can't apologize sufficiently, do so in as bizarre a manner as possible.
The timing of this augmented expression of regret is awkward because the mourning process over LeBron's departure concluded some eight months ago. Or it should have. The popular analogy among embittered fans and commentators is that of being abandoned by a significant other, but that's lazy and inexact. Free agency isn't a concept that has a parallel in the romantic sphere, and LeBron didn't leave Cleveland in its sleep. He held an ill-advised press conference, and ruined exactly one Cavaliers season. Did he crawl into your heart and slash its wiring? Has your self-esteem disintegrated? Do you have trust issues now? I'm sorry, then.
What do you do when you can't go home again? Or, more pointedly, what does LeBron do? Apparently he tries to convince others that he might go home again. One of the greatest athletes of his generation is experiencing an identity crisis while having the best season of his career. It's like watching fire try to figure out its motivation. And maybe that's the best way to think about LeBron James: he's an exhilarant and nothing else about him makes sense. I hope he can come home one day, maybe after he retires, and start making sense. In the meantime, he's a ball of flame with nowhere to go. There are worse things in this world.