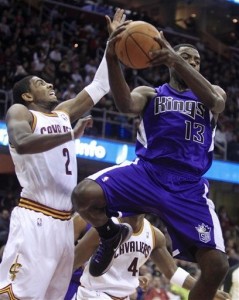 The Cavs edged the Kings in a game that was decided in the final seconds.
–I suppose we should talk about that last minute of play, huh? With 35 seconds left in the game, Kyrie Irving drove to the basket from the wing and missed a lay-up which was promptly tipped in by Tristan Thompson (Kings 90-Cavs 90). Then DeMarcus Cousins demanded the ball in the post, threw a cross-court pass to John Salmons as he felt the defense collapsing, and hauled in an offensive rebound after Salmons clanked the three. A couple wild misses by the Kings frontcourt followed, and the pile-up in front of the rim ended when Cousins fouled Alonzo Gee, who made one of his two free throws (Cavs 91-Kings 90). On the next play, DMC demanded the ball again, hooked around Antawn Jamison (should have been an offensive foul), and converted a tough reverse lay-in (Kings 92-Cavs 91). After a Cavs timeout, Irving drove the lane with almost no time left on the clock, and Tyreke Evans—who I think assumed the Kings had a foul to give—wrapped up Irving, who sank both free throws. And the game ended after the Kings got two shots at sinking a game-winner with 0.4 seconds left on the clock? For some reason? And Keith Smart was really angry about this? I dunno. It was a weird conclusion to a weird game.
–This game was sloppy mostly because the Cavs decided to play at the Kings' pace. The action was end-to-end for extended stretches, and there were a lot of turnovers, offensive fouls, and contested shots early in the shot clock. I'm pretty sure the Kings shot exclusively from behind the three-point line or within the painted area. I suppose this is as good a strategy as any for a team full of ball-dominant penetrators, back-to-the-basket big men, and shooters, but they still managed to shoot just 37% on the game. If there's one team in the NBA that desperately needs a pass-first point guard, it's the Kings.
–Isaiah Thomas isn't that pass-first point guard, but he did outplay Irving, whose jumpshot faltered in the second half. This might be the last time I write this about Irving because it's becoming the norm, but when the Kings were mounting a comeback in the fourth quarter, he demanded the ball and attempted to stem the tide. He failed, mostly (ultra-clutch free throws notwithstanding), but the fact that he wants the ball and that his teammates defer to him in crunch time is encouraging. Now, if only he can work on staying in front of shifty point guards…
–Tristan Thompson had a huge game. 15 points on 6-10 shooting, and 12 rebounds in 30 minutes. He was Varejao-esque on the offensive glass, tipping boards to both himself and his teammates. TT looked healthy for the first time in about a month (I had forgotten how bouncy dude is), and worked relentlessly on both ends of the floor. Maybe this Varejao injury has a silver lining insofar as Thompson, as long as he plays hard, will get some extended burn, and Cavs fans will get a chance to see what he can do when he has a better chance to get into the flow of the game (some players can't figure out how to be effective in only 12-15 minutes of action).
–Omri Casspi was 3-12 and 0-5 from behind the arc. This is getting depressing.
–Ramon Sessions should never be allowed to enter a game in which the other team likes to run. When Kyrie Irving elects to push the ball, he usually does so in a controlled manner, but Sessions just sprints down the court like a child that's ingested a drug store's worth of Skittles. At least three or four times, Sessions pushed the ball into traffic and flung a wild shot at the backboard. I really hope the Lakers can see through his glaring flaws, and put in an offer for him.
–Antawn Jamison was 7-21. You might be sensing a trend here: this was not a well-played game by either team. Way too much shooting, not enough passing, and intermittently sleepy defense. I'm sure both coaches will chew their young squads out for this performance.
The Cavaliers are at home against Detroit on Tuesday night. Until tomorrow, friends.