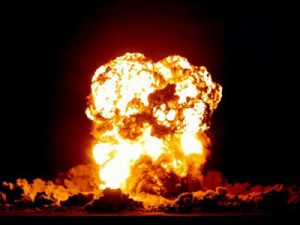 There's really not much to say about this game – it was clear we were missing a lot (Andy, Booby, Parker) and that we were completely over matched.  This is easily the worst I have felt about this team all season.  I'm going to forgo my usual good, bad, and rest, and keep it simple tonight.  This one really, really, REALLY hurt.  The Heat started insanely fast, and after the first quarter it was over.
Our D was terrible.  Bosh started ridiculously hot (we really missed Andy here) and once he cooled, Lebron took over.  Wade even hit his first three of the season.  It was just ugly.  I guess you could say that Tristan Thompson had an OK game on D, and Hollins was able to draw a nice challenge, but for the most part the defense was uninspired and dreadfully disappointing.
On offense it wasn't much better.  The Cavs shot 39.5 from the field, and that was aided by the fact that the Heat coasted the last two quarters.  Irving was probably the brightest spot – he had a couple of nice drives to the rim (including a beautiful fake-out layup) but it was, on the whole, pretty awful.
Gee clearly forgot his O and D at home tonight.  If he wants to take it to the next level, he can't have games like this.
I could go on, but it would be mostly redundant.  All we can do is turn off the TV, and pray for a better showing on Sunday.  Sacramento should be just the cure we're looking for (I hope).
Look on the bright side – there's no way we're losing 26 in a row this year.  Just try to smile and get through the night. It'll hurt less tomorrow. Until next time….