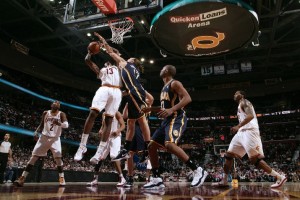 "There's a chance the Cavs will sign G Ben Uzoh to a second 10-day contract. "We're going to keep him around a little longer," Coach Byron Scott said. "We talked about keeping three point guards. We'll have to see." He made his debut with the Cavs on Saturday in their loss to Philadelphia. He dished out two assists, had three rebounds and two points in 5 minutes, 24 seconds." [CBS Sports]
Kyrie Irving will lead Charles Barkley's squad in the Rising Stars exhibition (formerly the Rookie-Sophomore game)during All-Star Weekend.
Harrison Barnes claims he will enter the draft if the Tar Heels win the national championship. This is a bald-faced lie even if he doesn't know it yet.
And I'll have thoughts on this whole "LeBron makes empty statements about possibly returning to Cleveland" thing Monday morning because, as much as I try to avoid writing about Bron, this situation requires comment.