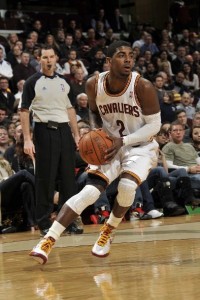 After losing five of their last seven, the Cavs defeated the Pacers in a game that wasn't all that competitive.
–Kyrie Irving looked himself in his first game back from a concussion that sidelined him for a week and a half. He flashed a portion of his offensive arsenal in the opening quarter, scoring at the rim, on a pull-up bank shot, behind the arc, and in transition. What I liked most tonight from Irving is how he controlled the pace of the game when he was the lone point guard in the backcourt (when he was paired with Ramon Sessions, Sessions did Sessions things while Irving spotted up in the corner). There was a point in the first quarter when, in semi-transition, he spurted past a defender and forced the other one to foul him as he converted the lay-in. I think Chris Paul comparisons can wait until Irving enters his third or fourth year in the league, but if there's a Paulian aspect to Irving's game, it's that he dictates to the defense the pace at which he's going to play.
–Semih Erden! The Turk played the pick and roll game pretty competently tonight. Irving and Sessions slipped him a couple of nice passes in the first half that resulted in easy dunks and lay-ups. Roy Hibbert put up some points on him with that near-unblockable hook shot he's developed, but it's hard to fault Erden for that. One minor concern to take away from an otherwise impressive game: Erden has to finish stronger at the rim. A couple of times, he caught a pass with a chance to flush it, and he failed to throw the ball down, resulting in a trip to the line for a pair of free throws. You're 7-foot, 240 pounts, Semih: make them tackle you if they want to prevent a dunk.
–Ryan Hollins checked into the game in the first quarter and immediately picked up an off-the-ball offensive foul just as Omri Casspi was about to take a wide open three. I hate him.
–I was going to make a joke about being positive that Antawn Jamison missed every single three he took no matter what the box score says, but the almighty box score is informing me that my joke is a fact. So instead, I'm going to submerge myself in the frigid waters of Lake Michigan and scream for a few minutes.
–I find it disconcerting how little I talk about Tristan Thompson in game recaps. I mean, I know he's been banged up, but his impact on a lot of Cavs games this year has been negligible. I'm starting to have recurring nightmares about Jonas Valančiūnas (I insist upon proper diacritical marks!) dunking on Tristan Thompson, and then giving him the Hook 'Em Horns sign as he trots back down the court.
–Omri Casspi is lucky I'm conserving all of my hate for the next time Ryan Hollins does something stupid. Because he has been a semi-secret disaster this season. He was 3-10 tonight, and a decent number of those misses were uncontested three-pointers.
–Boobie Gibson went down early in the game with what the announcers were calling a sprained ankle. (More news on that tomorrow, I would assume.) I think we've reached the point where we can finally slap Gibson with the dreaded "injury-prone" tag. Dude just can't stay on the court.
–The Cavs won this game in the first half; they went into the break with an 18-point lead. Indiana looked flat (this was the second night of a back-to-back for the struggling Pacers), and the Cavs, due in part to their light schedule over the last week, were spry. The defense was solid, the ball moved quickly on the offensive end, and their effort on the boards was commendable.
The Cavaliers' next game is at home against Miami on Friday. Until tomorrow, friends.