(This recap sort of operates in two sections: a quick look at the game and then a more abstract Rudolph the red-nose reindeer concept.  This may be the longest recap in blog history.)
For two teams essentially playing the season for pride, this was a pretty big game.  The Bucks and Cavs are currently locked in a battle for the 8th seed in the East.  Kyrie Irving was sitting again with concussion symptoms, but Milwaukee has been missing Andrew Bogut for 3 weeks.  Tristan Thompson returned.
The game was worthy of the monumental stakes.  Byron Scott got a T, Scott Skiles was ejected; EVERYONE knew what this game meant.  The Cavs started the game running a virtual layup line, opening up a 17 – 2 lead midway through the 1st quarter.  As quick as the lead was built though, it was lost; a couple of Gee turnovers, an Eyenga foul on a three pointer, some Milwaukee transition threes, and Milwaukee leads at the end of the 1st: 25 – 28.  The second quarter featured a relatively steady assault by the Cavs, they held Brandon Jennings in check and everyone was pitching in for Cleveland.  The halftime lead was 57 – 53 with five players scoring six points or more.    After falling behind early in the third quarter, Anderson Varejao left the game due to injury (sprained wrist, x-rays were negative).  I was sure this was this end with no Irving and no Varejao, but then Mr. Electric went to work…Antawn Jamison was ON FIRE!!  Eighteen third quarter points took the Cavs to an 85 – 77 lead.  The fourth quarter started poorly with TT, Samuels and Eyenga struggling at both ends, letting the Bucks get back within two, but then Jamison came back in and MONEY IN THE BANK!!  Jamison had accumulated 34 points as the game wound down to the final minute.  With the score tied 102 – 102, a really poor possession of offensive execution ended with Tristan Thompson turning the ball over with 2 second left on the shot clock.  It looked like trouble, as Brandon Jennings dribbled out the shot clock, before driving to the hoop.  Amazingly he missed though and Jamison was FOULED on the rebound with 3 seconds to go! 
Except it was all downhill from there.  Jamison missed both free throws, the game went to overtime where the Cavs continued to not get off good shots, and eventually they lost 113 – 112.  It would have been nice if Jamison hit one of those freebies, but clearly the loss can't be pinned on that.  The Cavs shot 6 of 13 on free throws in the 4th quarter.  Their last possession in regulation really could have used Kyrie Irving.  Ultimately it was an exciting game, their free throw shooting killed them as did their lack of depth without Irving and Varejao; Thompson, Samuels and Eyenga needed relied on too much, their 11 points on 16 shots didn't get it done in a close game.
____________________________________________________________________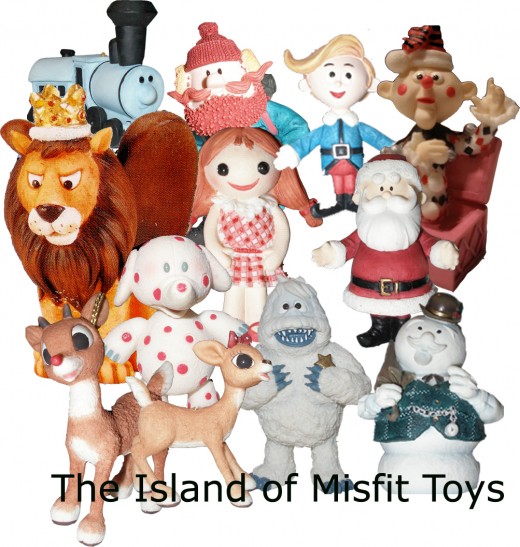 Whatever though, I've decided to take a positive outlook with this year's Cavs.  No getting upset about Antawn Jamison's shot selection or Ramon Sessions' defense or the fact that half the minutes at the wing & frontcourt go to players with one foot in the D-league, Europe or retirement.  Last season wasn't fun for anyone; time to leave that behind.  This year's team is the first real step in a re-building process, so I will cease getting bothered by the miscues of players that are largely auditioning for a continued role anyways.   Recent wins over the Mavericks, Celtics, Clippers, and Knicks, by a team seemingly destined for another disappointing season, have left me appreciative.  Viewed through the spectrum of a first re-building season, the Cavs overachieving bunch of undrafted, undersized, un-athletic or under-aged players, is a great surprise.  Watching the Cavs battle the superstar-laden Heat for three quarters, I couldn't help but think of the "Island of Misfit Toys", from the popular Christmas special "Rudolph the Red-nosed Reindeer".  You know the story.   After being teased at home, the protagonist runs away, eventually ending up in a land of flawed toys that can't find homes. The misfit toys are a loveable group that enamors themselves to Rudolph, who eventually saves Christmas and gets them delivered to children around the world. 
These castaways were so likeable that NBC had to change the original airing, because so many viewers complained that the plight of the toys was not adequately resolved.  I think Cleveland currently has their own cherish able Misfit Toys.  Tonight, the re-cap will include a comparison of each player to one of the originals (comparison in italics, recap is not).
Moonracer – A lion with wings was the leader of the crew.  If Cleveland has ever possessed such a creature, it's Anderson Varejao.  The effort he brings to every situation has been unbelievable and is undoubtedly the heart of this team.  This year, the effort is even showing up in the stat sheets.  His 11 points, 12 rebounds and 1.3 steals every night are easily career bests.  You could have flipped a coin to determine if he or Roy Hibbert should have been the East's back-up All-Star center; if Cleveland had 17 wins and Indiana 10, Varejao would be on that team. 
Hopefully Varejao's injury is as minor as the Cavs' announcers made it sound.  I don't want to think of this season sans Andy.  The Cavs struggled on the glass in this game, and Andy's 4 rebounds in 20 minutes were a season low.  Get back soon!
Charlie-in-the-box – He guarded the island's entrance.  Cleveland's team defense has improved by 7 points per 100 possessions over last season and the defensive efforts of Alonzo Gee and Daniel Gibson certainly play a role in that.  Both players routinely rise to the challenge of guarding the opponent's best.  The play of Gee has been a foremost cause of my positivity, as he definitely looks capable of being a rotation player on a contender.
The defense wasn't bad tonight.  The 113 points allowed came on 110 possessions.  Everything was going really well until the 4th quarter when Shawn Livingston started terrorizing the Cavs.  The Bucks started moving the ball better late in the game and ended up with too many fourth quarter layups.  Gibson had a really solid game, playing both guard positions: 17 points on 12 shots with 6 rebounds and 8 assists.  In the last minute of the game and overtime, Gibson was really the only Cav getting good looks.  Gee had an Alonzo Gee game; 18 points on really aggressive play, 4 turnovers.  He needs to spend all of next summer working on ball handling drills.
Bird Fish –  A power forward whose shot selection is 77% jump shots and 0% dunks…Antawn Jamison, you sir  are the NBA's swimming bird.  I'm not upset though; Jamison serves as a veteran that is ultimately helpful to his year's team.  Until he's traded or leaves in the off-season, I'll contentedly accept Jamison as part of this motley crew.
Until the two missed free throws, Jamison was out of his mind tonight.  34 points and 11 rebounds with 3 assists and no turnovers.  Everything he threw up went in, until overtime when he scored nothing.   That's two really solid offensive games in a row for Jamison, although I still can't imagine anyone trading anything of substance for him.
A Dolly for Sue – This toy was depressed due to abandonment by her owner.  Ramon Sessions has repeatedly been on the margins of being wanted.  Whether being drafted 56th, becoming a free agent when everyone was saving cap space for Lebron, being traded to Cleveland for nothing, or watching the Cavs draft a PG first in the draft; Ramon has struggled to find a home.  When cast as the undisputed starter, he's shown ability to thrive, and the 24 points & 13 assists on Wednesday should leave him in the good graces of Cavs fans everywhere.  If it increases his trade value; that's fine too.
Sessions is reliving his Milwaukee days; 16 assists for the Razor tonight.  He was 4 of 16 from the field and didn't play particularly good defense, but he was a really good floor general, as the Cavs moved the ball around pretty well until the end.  They finished with 33 assists on 43 field goals, shooting 58% through three quarters, before regressing to 31% in the 4th Q and OT (plus the 7 of 15 free throws).
Squirt gun that shoots grape jelly – Omri Casspi, your shooting motion is unorthodox.  I'm not sure where you fit into the future, but moving JJ Hickson was crucial towards defining a new Cavaliers identity.
Casspi was pretty good tonight and lead the team in plus/minus at +16.  He had 9 points during the initial 17 – 2 run and never turned the ball over.
Cowboy riding an ostrich – If an explanation is required, you don't understand Luke Harangody.
Tonight Luke, the bench was your ostrich.  That was probably for the best.
A toy boat that sinks – Christian Eyenga occasionally enthralls with flashes of shocking athleticism.  Eventually though, you realize there are too many leaks to fix. For now, I will appreciate the Sportscenter worthy plays and accept everything else, while banking on Alonzo Gee as the perimeter defensive stopper of the future.
Skyenga made one appearance with a fantastic second quarter baseline drive & dunk.  Other than that, he drowned.  His other six shots were misses and he only chipped in one rebound, while the Cavs went -15 with him on the floor.
Spotted Elephant – The "round mound of confound", Samardo Samuels will have the occasional encouraging game, like his 15 points and 5 rebounds in 22 minutes in the first Miami game.  Most other times, he'll do something else (28% field goal shooting since then).  He plays hard and I'll take that this year.
Samuels was overmatched, too.  He couldn't finish near the basket and the Cavs struggled rebounding with him on the floor.   4 points, 3 rebounds and minus 16 during his 14 minutes.
Trainer – Tristan Thompson is our locomotive with square wheels.  Your energetic dunks & blocks are a great addition.  My fingers are crossed though that you can polish the rough edges and make your wheels round.
It was great to see him back on the court, and this was one of his better games.  He needs to quit forcing shots, but he was a defensive and rebounding menace tonight; 13 rebounds and 3 awesome blocks in 28 minutes.  He really is a mess on offense though.
An airplane that doesn't fly – At nearly 37, Anthony Parker's most athletic days are far behind him.  No problem though; he's cheap roster filler until this off-season, when presumably a younger player or two will be added to the mix.
AP stayed in the hangar tonight due to his lingering back issues.
Rudolph – Kyrie Irving is the one leading this sleigh.  Anderson Varejao being more awesome than ever, Alonzo Gee looking like a keeper, and Irving's emergence as a franchise cornerstone are the main drivers of my optimistic take on all things Cleveland basketball.  That's a good start for year one of serious re-building.
Here's to a speedy recovery, Kyrie.  There's no Christmas without you.  The Cavs probably win this game if Irving is there for the 4th quarter.
I probably broke a record tonight; Longest recap of all time.  Until tomorrow, hombres…
Tags: Recaps