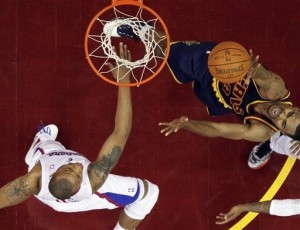 The Cavs defeated the Clippers despite the absence of Kyrie Irving (concussion). Colin McGowan had a faulty wireless connection for most of the game, so this recap's going to be short.
–Of course Ramon Sessions played out of his freaking head one night after looking like a total scrub. He drained threes, snaked to the bucket, and even flashed a couple pull-up jumpers. He made Chris Paul look bad. Sessions will probably turn the ball over five times the next time he plays, but he was revelatory tonight.
–Great job by Anderson Varejao on Blake Griffin. I don't often mention how well Varejao checks his man in the post because he plays impermeable defense almost every night, but considering the physical freak Griffin is, Wild Thing's commendable defensive performance is particularly notable.
–I apologize to Antawn Jamison for all the mean things I've said about him. He put up 27 points on 10-18 shooting, and confounded Griffin a couple of times with his various angles of delivery.
–I forget that Boobie Gibson's a valuable player because he's in and out of the lineup so much, but he came up big tonight with 17 points on 6-11 shooting including a crucial three-pointer with 1:20 left in the game.
–Am I missing something or has Christian Eyenga looked not terrible in his short appearances the last couple games? I need to go over some game tape and see if he's as lost in terms of defensive rotations as he was last season, but in real time, he looked competent.
–Mo Williams blew a lay-up that would've tied the game late in the fourth quarter. So, y'know, Mo Williams doing Mo Williams things.
–Vinny Del Negro, at one point, went small against a Cavs frontcourt of Samardo Samuels and Luke Harangody. Vinny Del Negro is very not good at coaching.
Alright, that's all I got. I'll probably have more news on Kyrie's concussion tomorrow. Until then, friends.