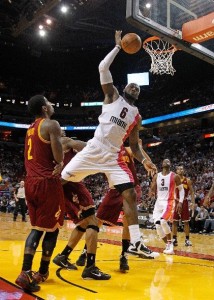 The scoreline is deceptive. This was a really fun, competitive game until the Heat pulled away in the fourth quarter to transform what had been a relatively close matchup into a rout.
–All praises due to Alonzo Gee, who had to guard D-Wade or LeBron whenever he was on the floor (35 minutes). I was impressed with not only Gee's ability to stay in front of two of the most talented scorers in the NBA (he did pretty well!), but also by his attitude. Guarding guys like LBJ, Kevin Durant, et al. is sometimes an exercise in staying confident in the face of repeated defeat. Some possessions you keep your feet moving, direct the scorer toward help, do your best to contest the shot… and the superstar scores anyway because he's really good at basketball. Gee didn't hang his head at all when LeBron and Wade scored over him. He just kept plugging away. Also: 16 points on 6-11 shooting and no turnovers. I'm starting to imagine Gee as a Jared Dudley-type wing defender who can score a little bit. And he's probably a better athlete than Dudley.
–Ryan Hollins: -14 with four fouls, three turnovers, five points, and a rebound. I have this friend, Jake, who's, like, at least 6'6″. I think he might have played basketball in middle school? I'm positive he could play the 5 more effectively than Hollins. Does anyone have Chris Grant's phone number?
–A Luke Harangody-Ryan Hollins frontcourt happened at some point? I dunno, I blacked out.
–Subpar game from Kyrie Irving. His jumper wasn't falling, so the Heat were able to pack the lane on him without any consequences. He help up well enough on the defensive end; Mario Chalmers heating up from long-range wasn't his fault.
–Antawn Jamison posted 25-9 on 22 shots. I'm fine with this.
–Sessions was awful, though Miami's not a good matchup for him. Regardless, he was careless with the ball (4 TOs in 30 minutes) and the offense stagnated when he ran the point. I was exchanging emails with C:TB's own Kevin Hetrick a few weeks ago and claimed that I thought Sessions could be a valuable bench scorer moving forward. I've since changed my opinion: Sessions is somewhat useful on this particular Cavs team, but he's not a very good basketball player. He's not a pure point guard (which, at 6'3″ is problematic); he's a terrible defender; and he's streaky to the point of being unreliable. The Cavs should cash in on his inflated stat line and look for a less expensive backup for Irving moving forward.
–The Cavs lost this game largely because of their depleted backcourt. Or at least the game devolved into a blowout because of this lack of depth. Eyenga saw some minutes, Gee performed admirably, and the strange Irving-Sessions backcourt remained strange, but in the end, the Cavs guards just didn't have their legs beneath them in the final period, as LeBron and Wade got to the rim with ease.
Anyway, the Cavs host the Clips tomorrow night, which should be exciting. Irving v. Paul, Blake v. Andy, and Mo Williams's homecoming are all compelling storylines. Until tomorrow, friends.