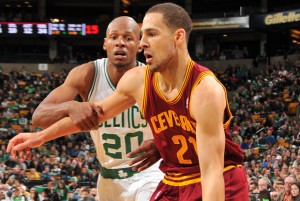 The Cavs have elected to cut Mychel Thompson rather than guarantee his contract for the rest of the season. They will play shorthanded against Miami. To replace Thompson, the team will either sign a D-Leaguer to a 10-day contract or make the move America has been clamoring for and call up Manny Harris.
"Rookie teen-aged point guards generously listed at 6-3, like Irving, don't shoot 50 percent one-third of the way through this year's frantic NBA schedule. Going into Tuesday's game at Miami against James and the Dancing BTUs, Irving's body of work so far has been startling. In the categories relevant to scoring and shooting efficiency, Irving has it all over James in his 2003-04 rookie season. Irving has played 22 games, double the amount he played after being hobbled by a toe injury in his lone season at Duke. What really jumps out at the same point in each player's rookie season is that, in 52 fewer shots, Irving is scoring more than James. Irving is more efficient at ambidextrously "finishing" drives with a lethal crossover dribble, explosive quickness and mid-air body control. But he can also put the ball in the basket at mid-range, at the line, and at long range." [Bill Livingston]
"When the media showed up to the Cavaliers practice facility Monday, all but one question was about the Cavaliers. The other one came late in the interview session and was directed toward rookie point guard Kyrie Irving. It had something to do with the Miami Heat. That's the team the Cavs visit Tuesday night (7:30 p.m., FOX Sports Ohio). It's also the team for which LeBron James plays. You remember James, don't you? The Akron native whom the Cavs selected with the No. 1 overall pick in 2003? Sounds like a silly question, but there's a point behind it. Namely, that most folks in these parts finally seem ready to focus on their own town and their own team — as well as Irving, their most recent No. 1 overall pick." [Sam Amico]
"Spoelstra singles out Irving's maturity, which is impressive considering Irving is the fourth-youngest player in the NBA. He calls him a "thinking man's quarterback" who reads the defense in front of him but also dissects the "different layers of your protections and rotations" to find ways to exploit it." [Tom D'Angelo]
Michael Curry has an NBA Playbook-ish breakdown of Irving's game-winning lay-up against the Mavs.
Boobie Gibson was set to return to the lineup tonight, but it appears his neck is still bothering him. Is it safe to officially tag Gibson as "injury-prone"? He's a valuable contributor off the bench, but he hasn't been able to stay in the lineup for the last couple of seasons.