Well, that was one of the more enjoyable games I've watched in a while.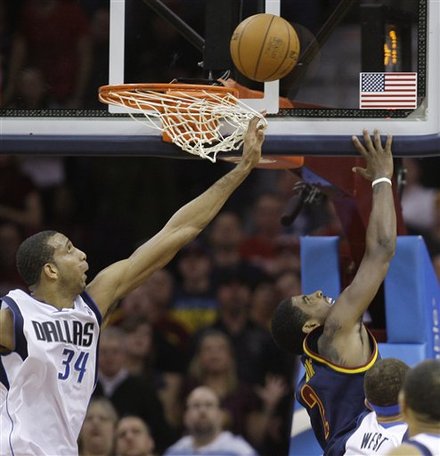 Playing their sixth back-to-back in only 22 games, the Cavs started slowly but finished monstrously strong to beat the defending champions behind stellar efforts from a 19-year-old rookie, a 29-year-old Brazilian, and Mychal Thompson's son for two minutes in the third quarter.
It was the Cavs first win of the season against a .500 team, and only their second win in the tail end of one of those aforementioned back-to-backs.
Want some blurbs?
Let's do some blurbs.
Kyrie Irving puts up 20, 7 and 4. It's getting pretty hard not to be really excited by the kid. He was pitched in the draft as being good at everything, but potentially, great at nothing.
At this point I'd think it's safe to say that's his floor.
Kyrie is faster than anyone gave him credit for, his handle is either insane or on the verge of insane, and there's the type of nuance in his game that defies physical measurement and amplifies the ability he does have. And then again tonight, he flashed the capacity (slash desire) to seize the important moments of a game, which he did by weaving through the Maverick defense twice in the final two minutes to finish at the rim.
Remember how that wasn't happening earlier in the season (the finishing at the rim)? Well, it's happening now. The kid is getting better, and he's getting better quickly.
Side note: Special thanks to Patrick Ewing for lending Kyrie his kneepads.
Andy Varejao continues to kill it. Andy Varejao has never had a run like this in his entire career. He had 17, 17 and 3 against the Mavs, and is averaging 16.3, 17.3 and 2 in the last 3 games. But more than that, as always is always the case with Andy, stats don't tell the half of it.
His energy is changing the complexion of games right now. As important as Kyrie has been in improving the Cavs offensively, I would credit Varejao at least as much. His constant movement on the offensive end is surprisingly effective in opening up passing lanes and his offensive rebounding — tops in the league right now at 4.7 per game — is giving the Cavs opportunity to hang around in games they'd otherwise have shot themselves out of.
The Cavs won the game tonight because they took 26 more shots than the Mavericks, a result of their 17 offensive boards (7 from Andy) and 21-9 turnover advantage (only 1 for Kyrie). Remove those advantages from the equation and consider that Cleveland shot 39.8% to Dallas' 47.8%… Without Andy Varejao, tonight's game isn't close.
He is the heart of the team, and really, one of the stronger hearts in the league.
Antawn Jamison…is a really nice person (and seriously, I mean that).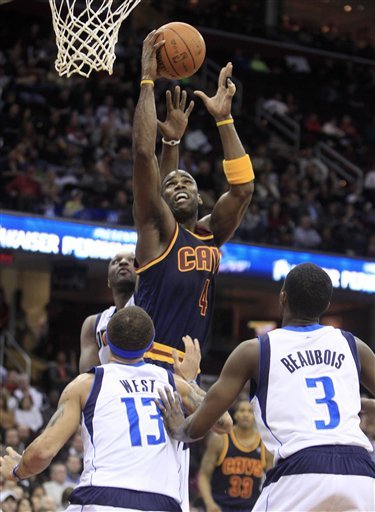 Wrote this down at some point in the first-half: "Antawn Jamison plays the game as though you get ½ a point for every shot attempt." It's not that he shoots all the time, it's that sometimes he's just shoveling the ball at the basket. I'm on record as saying we'd miss him were he gone (and I do believe we would), but ultimately, the Cavs are going to have to find a more consistent first (or second?) scoring option. Preferably one athletic enough to avoid shooting the ball around the side of a defender. AJ said a few weeks ago that there's no one in the league who can stop his unorthodox game. I'm starting to question if anyone's trying to.
Dan Gilbert, social media enthusiast.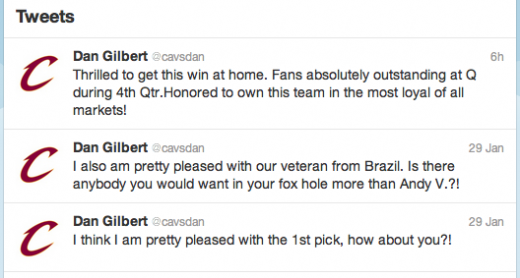 I'm not dumb enough to think that Dan's not pandering a bit…but I am dumb enough to think that he's not pandering a lot. I'm pretty sure that Dan Gilbert loves this team semi-irrationally, that his heart is in the right place, and that when it's time to be competitive again, we'll once more have access to a talent-boosting hoard of his casino money. I feel comforted that he's so invested. Just please, basketball god(s)…rig the lottery this year, land us Anthony Davis, and then we can all stop worrying about being too good, too quick for the foreseeable future. Then, we can free Dan Gilbert('s money).
How about we start throwing bounce passes the rest of the year? The Cavs are, without a doubt, the worst alley-oop team in the history of professional sports. In the past several games, I've seen lobs to Jamison, Casspi and even Harangody clunk off the backboard unrequited. With the exception of Gee and maybe Tristan (who I'm not 100% sure is the most natural lob catcher), there's not a rotation player on the team capable of finishing what should be a NBA-requisite for positions 3-5. By no means is this a disaster (I actually think it's kind of funny), but it's indicative of our lack of athleticism on the perimeter and probably something we should try to rectify for 2012-13.
Last blurb. I don't want to jinx it…but the Bruce Bowen comparison for Alonzo Gee? It might even be setting the bar low.
………………
Next game is Tuesday in Miami everyone, so until then…enjoy the Super Bowl!
(Actually, I have a picture post coming sometime tomorrow afternoon/night…so keep a lookout!*)
…………….
*And by tomorrow, I mean next Sunday. Sorry folks! Got a little off of my cartooning schedule. That said, here are a few pictures I had sitting on my desktop to tide you over/validate me. One Cavs cartoon, and one (just for the heck of it) Super Bowl promo.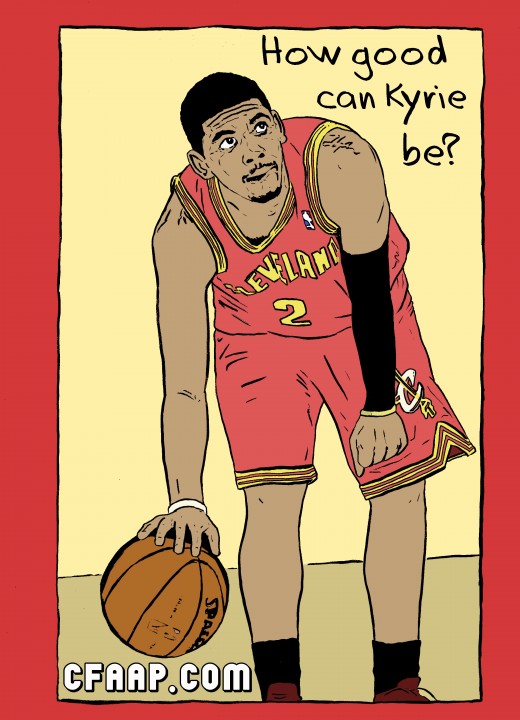 The Kyrie pic was to head an article I wanted to write in a few weeks. Maybe now I'll just draw a new picture to pair with it.
And this next one…well, happy Super Bowl Sunday.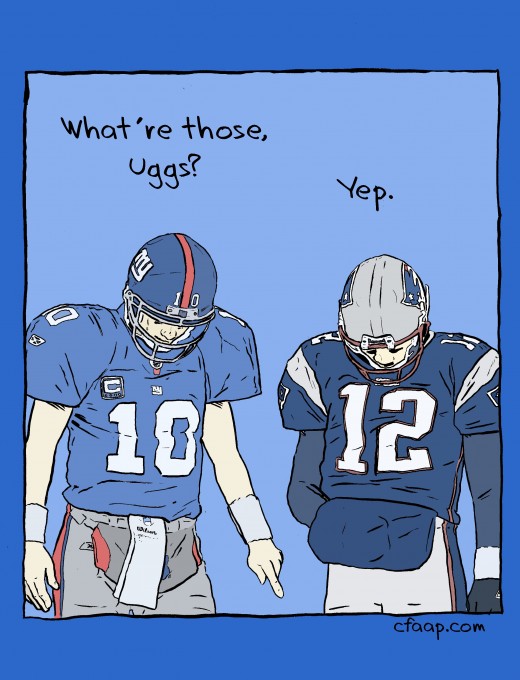 -Ryan