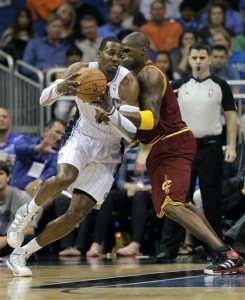 This one wasn't as close as the final score indicated. Though the Cavs rallied briefly in the final period, it never seemed that they were going to pull out a victory. Dwight Howard dominated the painted area, and the Cavs shot only 36.7% from the field.
–Kyrie Irving had a lot of trouble around the rim tonight, which was to be anticipated since Dwight Howard is a shot-blocking machine. Irving went 7-21 with a handful of those shots ending up in the third row. I'm not really sure there's a solution to the problem of finishing at the rim when you're a 6'3″ point guard going up against one of the best defensive players to ever play the game other than "hope your jump shot is working."
–One minor concern: I know the team had a couple of days off before this game, but Irving shouldn't play 40 minutes in a game that's not all that competitive. The Cavs have a banged-up backcourt, but how about giving Eyenga some PT at the 2-guard instead of running Irving ragged? (This apparently speaks to just how far in the doghouse Skyenga is with Byron Scott.)
–Alonzo Gee was the lone bright spot tonight. 20 points on 7-12 shooting. I've taken a real liking to AG. I think if his defense continues to improve, he can become a valuable sixth or seventh man down the road. As it stands, he might be the Cavs third-best player. I am not comfortable with this fact.
–Antawn Jamison grabbed 12 rebounds in this game, which defies the laws of the universe. He also shot 6-19, which makes a lot of sense.
–In retrospect, the one positive of the whole LeBron debacle was that Cavs fans didn't have to experience this weird Sword of Damocles thing that Nuggets and Magic fans have had to put up with. There was always a decent chance LeBron was leaving the Cavs after the 2009-10 season, but it's not like Cavs fans were actively mourning his departure as he was still playing for the team. What do Magic fans do, exactly, when Howard comes out of nowhere to make a spectacular block. Wow that was an amazing play I'm really depressed! I dunno. The whole thing makes me sad.
I don't have much else to say. The Cavs played a better team and lost. It's the sort of boring loss a team like this endures from time-to-time. The Cavaliers host the Mavs tomorrow night. Until then, friends.