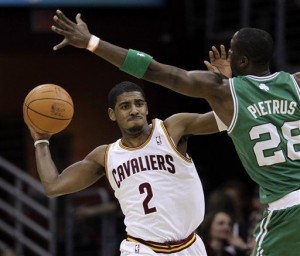 This was a strange game. The Cavs defended well and shot poorly for the first twenty minutes, allowed the Celtics to pull away as the first half came to a close, didn't look competitive again until there were nine minutes left in the fourth quarter. Then they lost the game in the dying moments due to a couple of clutch buckets by the Celts. It was a lot of fun.
–Andy Varejao earned the first 20-20 game of his career. "Earned" is the operative word here. I don't always commend Varejao on his effort because it's ever-present, and it would be boring if I wrote "Great hustle by Andy" in every recap, but his relentlessness single-handedly kept the Cavs in the game when they were down by 20. Even in the depths of a blowout, he continued to inhale offensive rebounds and stay active on defense. Andy V's not a good shooter (though he hit a few jumpers in this one), doesn't have an impressive array of post-up moves, and isn't built like Dwight Howard, but he's a special player. His teammates should take him out to dinner after this pair of performances he's put in against the Celtics.
–I like Ramon Sessions just fine as a combo guard who, in limited minutes, can score on a team that occasionally lapses into severe offensive deficiency, but Boobie Gibson and Anthony Parker need to get healthy ASAP, because when Sessions is forced to shoulder too much responsibility, the results can be disastrous. I've noticed lately that he delivers some absolutely horrendous passes off of penetration. In the first quarter, he drove to the foul line, drew a double-team, then chucked a haphazard pass at an open Kyrie Irving, who had to gather the pass, re-balance himself, then missed a three that would have been uncontested had the pass been anywhere near his shooting pocket. He did something similar two possessions later, when he threw the ball over Varejao's head as Andy was rolling toward the basket. Where Irving weaves through the defense and usually makes the correct decision, Sessions jumps in the air and either sprays a pass three feet to the left of a teammate or takes a contested jumper.
–Irving was largely ineffectual in the first half. He missed a couple of open jumpers, dropped off six assists, and was smothered by the Celtics, who shaded their defense toward him the entire game. This is a minor detail, but I liked that, after missing a couple jumpers in the first half, Irving realized he needed to get himself some easy points. So, on a pair of offensive trips, he drove to the bucket, and drew fouls on both sequences. The one thing you worry about with players who are both good shooters and gifted at getting to the rim is that they will fall in love with their outside game and neglect opportunities to take high-percentage shots. Irving displayed his high basketball IQ tonight in realizing he needed to make things easier on himself when his jumper wasn't falling.
–In the final quarter, Irving shined. He drained a couple of pull-ups, finished a lay-in from a ridiculous angle, got to the free throw line, and threw one of the most dazzling non-assists I've ever seen when he passed the ball behind his back from the hardwood to avoid turning the ball over. It's reassuring that Irving has exhibited, even at age nineteen, that he wants the ball in pressure situations, but what's been equally impressive is that he's actually come through half the time.
–TT had no impact on tonight's game. He twisted his already-ailing ankle early in the second quarter, was slated to return, then trainers decided to shut him down after reexamining the ankle at half. I'll probably have an update on his injury tomorrow.
The Cavs have a two-day respite before they meet the Magic in Orlando on Friday. Until tomorrow, you guys.